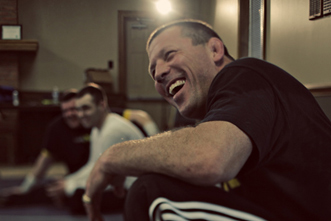 Science just proved that Jesus was right. Just when the modern media was beginning to write him off (see my last post), an article in the New York Times describes Adam Grant, a Wharton professor whose studies are showing that following Jesus pays.
You would think that an efficient, focused leader is the one who gets ahead. But Grant has found that the law of love is actually more powerful than the law of efficiency. In fact, his studies show that leaders who love others unconditionally are the ones who get ahead.
"For Grant, helping is not the enemy of productivity, a time-sapping diversion from the actual work at hand; it is the mother lode, the motivator that spurs increased productivity and creativity … The greatest untapped source of motivation, he argues, is a sense of service to others; focusing on the contribution of our work to other peoples' lives has the potential to make us more productive than thinking about helping ourselves."
Grant believes that helping others — loving them unconditionally — is actually the best way to live. He describes a way of living that seems counterintuitive to secular society, but right in step with Jesus. Of course, Jesus disrupted the religious establishment when he told his followers to love without conditions and to stop keeping score, but who believes that anymore?
Up until the time that Jesus came along, religion had been all about keeping score. But Jesus said, "No more tit-for-tat stuff … you're kingdom subjects. Now live like it. Live out your God-created identity. Live generously and graciously toward others." Matt. 5:42,48
Those of us who follow Jesus try to live this way because it's what he modeled and it's how he instructed us as his disciples to live. But now the rest of the world is catching up to the fact that it's actually a better way to live. We as human beings feel more fulfilled when we are able to give to others without expectation of receiving anything in return.
It's a dynamic that we see on short-term mission trips all the time. As our missionaries go to places where people are too poor to help themselves, they find great joy in giving to others. And they are inevitably blown away when those who they intended to help find ways to outgive them.
Grant has documented this principle and written about it in a book called Give and Take.
"Studies and personal case histories suggest the benefits of an attitude of extreme giving at work. Many of the examples — the selfless C.E.O.s, the consultants who mentor ceaselessly — are inspiring and humbling. These generous professionals look at the world the way Grant does: An in-box filled with requests is an opportunity to help people, and therefore it's an opportunity to feel good about yourself and your work."
Grant puts people into three categories: Givers, Takers and Matchers. While the number of Givers is proportianately small, they are the ones who inevitably get ahead in life.
Following Jesus takes faith. After all, he said crazy things like, "I tell you, love your enemies and pray for those who persecute you." We can't seem to escape this inward need for proof that he was who he said he was — the son of God, crazy like a fox.
In light of that, I always find it gratifying when science shows that our faith is a reasonable one. When we make Jesus Lord, we follow someone who didn't just conform religious principles to science, but who actually created science and used scientific principles to create the universe.
That's the very science that is just now making discoveries about the reality of what Jesus taught. I haven't always followed him, but the longer I live, the more his way of living makes sense.