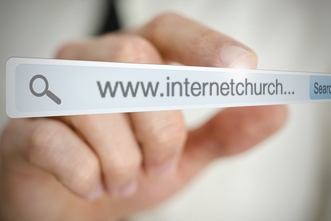 I work with a variety of churches, and, more often than not, my role is to help the ministry advance online. This can be in a variety of ways such as websites, online streaming, Internet church campuses, online video, online donations, social media, Internet TV, mobile websites, mobile apps and much more. I believe that technology/Internet plays a major role in the distribution of information, and therefore the important information that is "The Gospel" should utilize all methods of distribution to get the message to the masses.
Since my role is a technology based role, I very rarely have to address theological issues regarding technology because my job is to help distribute the message online, not change it. But, as technology progresses at a rapid rate, there are more questions arising that have theological ramifications concerning technology, and this is an issue that I find myself having to explain more often than not to decision makers.
Issues such as:
Can you be saved online?
Can you assemble online?
Can you actually go to church online?
Will the online church enhance or replace the church building?
Digital ministry enthusiasts like myself believe the answer is "yes" to all of these questions. We believe technology enhances the ministry and we want to use it to reach the world, but, unfortunately, from a biblical perspective, there are church leaders that will say the online aspect of church is outside of the building and, thus, not "church." Or they may believe that the online church (digital delivery of the Gospel) will try to replace the traditional church just like iTunes replaced Tower records.
Overall, I don't believe Internet church will replace traditional church. It's an extension of traditional church delivered in a digital format (audio, video or social media) to your preferred device (laptop, desktop, mobile or television). But if the church is going to take ministry to the people and really step outside the walls, then it has to have an Internet component to it that allows it to be accessible for anyone, anytime, from anywhere in the world, and that is how you take the Gospel to the four corners of the globe.