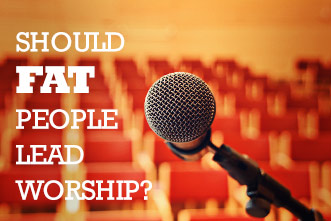 [I was reminded this weekend that my friend Sherren Wilson would have turned 54 yesterday. A couple of years ago, when a blogger suggested that fat people shouldn't lead worship, I wrote a post about Sherren. I wanted to share it again. Sherren is someone you should know.]
The question seems to be, "Should fat people lead worship?" My answer would be yes and no.
Let me tell a story and then explain.

One of my favorite worship leaders was Sherren Wilson. Sherren was not only excessively overweight, she was chronically late and consistently unprepared; but when she led worship, something mysterious happened.
As Sherren led children in worship, they would jump and spin and wiggle and dance along; and they would be swept up in genuine worship. I saw second and third graders' hands raised, eyes closed, tears running down their cheeks, expressing love to God. Sherren taught hundreds of children that worship comes from the heart and flows out through every muscle.
What was truly remarkable, however, is that adults were swept along with the kids when Sherren led. Many leaders told me they connected more with "children's" worship led by Sherren than any other music at our church.
Sherren had a rare gift. God enabled her to pull back the invisible curtain between "here" and "there" just enough so we could peak inside.
Sadly for us, God called Sherren "there" not long after her 40th birthday, but when she led worship, we experienced a little of what Moses saw when he had to cover his face with a veil, what Isaiah experienced when he saw the Lord high and lifted up, what John wrote about when he was in the Spirit on the Lord's Day.
Sherren led children and adults into the throne room of God and allowed us to experience the awe of his presence a few minutes at a time.
While this rare gift is always accompanied by talent, it cannot be taught or inherited. (See Acts 8.) When we are led in worship by someone gifted like Sherren, weight, gender and appearance become immaterial.
Unfortunately, I have seen many very talented singers and musicians who have the job but not the gift to lead worship. They have the right guitar, the right scarf and the right hair. They carry the appropriate weight and are always tastefully dressed. But without the gift, the experience is always staged. No amount of lighting, fog or digital processing can manufacture genuine worship; real corporate worship is a mysterious, spiritual connection that flows from God through gifted leaders.
So back to the question, "Should fat people lead worship?" If they are gifted, they have no choice.
The question isn't weight, height, gender or race; the question is gifting. Without the gift, it's just a show; with the gift, it's holy ground.
Without the gift, distractions matter; with the gift, my heart for worship is what makes the difference.