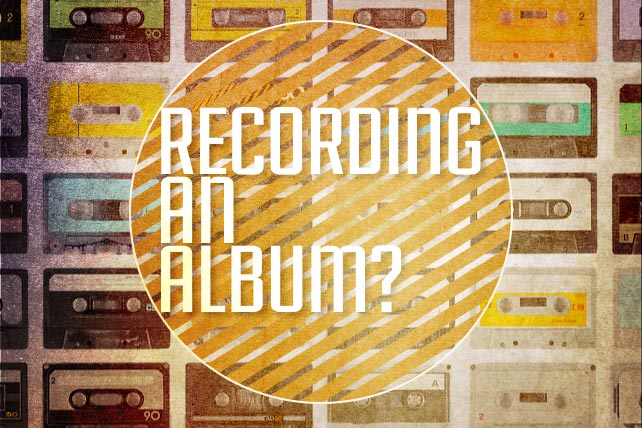 If you are at all familiar with the heartbeat of Songsmith, then you will know we are about empowering worship teams and other artists to refine and release their unique, God-given sound that is for and from the heart of their community. There comes a point when a worship ministry is ready to put their original songs down on tape, join the iTunes community, and release their sound to the world.
This can seem a daunting task as you begin to see the planning and costs involved, but I am here to tell you that not only can it be done, but it can be an enjoyable experience for all involved, with powerful results, if there is time taken to do it with excellence.
I have been a part of writing, recording and producing three worship albums as well as a couple of solo ones, and I just wanted to share some great tips from my experience to help you navigate the process and have a successful outcome.
1. Ask Yourself "Why": As a worship ministry, this seems an easy question to answer. I mean you love God and you play music, so why not, right? The process of a recording project will test limits of the heart and strength of your team. It is not for the faint of heart. In recent years, there has also been a heavy sense of commercialism in worship music. It is not bad or wrong to have income from your music, you just really need to decide as a team, and under the Holy Spirit's guidance, what the ultimate goal is with releasing a project.
2. Stick to the Concept: Before you start deciding what songs are going on the album, you have to decide the theme and sound of the project … and stick to it! Just because a song is great, or it's written by the worship leader, doesn't mean it belongs on the project. Take time to really solidify the purpose and feel of the project. Is it acoustic or fully produced? What style or genre are you going after? Does it have a recurring theme like grace or freedom? Is it an upbeat anthemic sound or is it made for a calm, soaking worship experience.
3. Write, Collaborate and Rewrite: If you are planning on an eight-song project, you should probably write 20-30 songs, possibly more, to choose from. Teams make the mistake of only writing the songs they "know" are going on the album, and they never stop to ask if there was something better that God has for it. Allow multiple people to write on a song, and don't be married to any particular part if something stronger comes along. You will also want to test market the possible songs with your congregation. Before committing them to the project, see how people respond.
4. Hire an Experienced Producer: This is an overlooked aspect of recording that plays an integral part of the success of a project. The artists and writers are too invested in their own creation and performance to see the bigger picture. A great producer is looking at the whole project from a bird's-eye, outside, unbiased perspective that keeps the project on track. The artists have input, but the producer has the authority and final say. This also helps to relieve and resolve any power struggles or hurt feelings amongst the team during the process.
5. Feelings Will Get Hurt: Have pastors on standby for damage control because we are all human and there is a lot of passion and emotion that goes into something like this: Someone won't get their song on the record; someone won't get to play on it; songs will get rewritten against someone's wishes. It happens, but expectations need to be communicated up front to lessen the blow and keep the team united. Always go back to the "why" you are recording this thing in the first place, and it should be big enough to overcome the obstacles.
6. Budget and Marketing: Whatever you think this project is going to cost, I promise you that it will be much more. Crowd funding campaigns are a great idea. You can definitely raise money from church offerings, but it gets a little awkward when someone has donated toward the project and then are asked to purchase the record. You want to have a marketing strategy in place and figure out how you are going to reach more than just your church family. Get set up with online stores (iTunes, Amazon, CDBaby), build a simple but engaging landing page, and plan for some live concerts at local venues or other churches. Find an angle for the sale of your project that is more than just "please buy our music cuz it's good." Having a good marketing plan will keep you from sitting on boxes of unsold CDs
I hope this gives you some good starting points for your project … there is so much more to say on this subject, so if you would like more info or have questions, be sure to contact us here at Songsmith Creative.