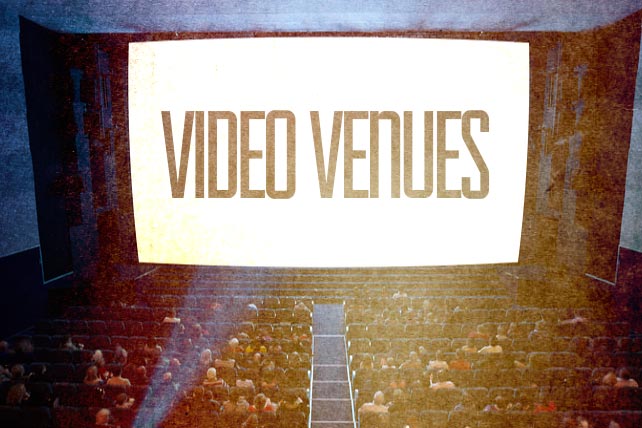 Once churches discovered the value of video, the multisite and satellite campus model went from a handful of megachurches to tens of thousands of churches. With this explosion of multisite churches, a separate venue utilized as another service style option—or even just a simple way to make more room—has also been gaining popularity on existing church campuses. In both cases, I have found that there are four types of church video venues. For churches considering video venues or multisite campuses, I am presenting these four types of video venues as helpful research that looks beyond the venue to the technology and logistics required for effective services.
Type 1—Overflow Video Venue
Growing churches will find themselves running out of space in their main meeting venue. A seemingly simple step is to open up another part of the facility, run a video and audio cable to the room, and fire up a projector and portable sound system. Voila! A "video venue" is born. Well, not really. While the concept of space-sharing is great, the implementation of the technology and the logistics of planning are often overlooked.
Years ago, a church I volunteered for did this for what I'd euphemistically dub a 'family friendly service venue.' The reality is that they didn't want to let kids into the main service, so they had those families attend an overflow area in their 300-seat chapel. The music feed from the main auditorium sounded great. The video looked pristine. The lighting was appropriate. But it failed—miserably.
So what was the problem? Authority and leadership.
When a video venue is used as an overflow area (or family friendly service) and no leaders are present at the front (stage area) of the room, people treat the space like a very large living room. What I witnessed the last time I ran sound in this venue can only be described as 'distraction on display.' Kids climbing/crawling on pews. Kids running up/down around pews. Parents taking cell phone calls (and not quietly, either). Audience participation during singing? Zilch. People paying attention during the message? Somewhat.
What was needed was authority and leadership. A praise singer/worship leader up front during the music, a leader (possibly even the same person) to do "meet and greet" (or however you choose to help make a personal connection), someone to help with segues and basically just a presence in the room to give a sense of order to the video venue service. YMMV (Your Mileage May Vary), but the trend for adding pastors and worship leaders in a video overflow room is a good one.
Type 2—Video Cafe Video Venue
Often called a Video Cafe, the worship service format/space/style can be very different from the main service auditorium, but still utilize the sermon video taped (or live or time-shifted—more on that in a minute) from the main auditorium. The term Video Cafe usually equates with a Starbucks type of setup but in all reality is just a term that more accurately describes a different venue from the main service.
A Video Cafe can be on-site (at the same campus but in a different venue) or off-site (at a satellite campus), depending on the vision and intent of the church leadership. Technically, these can utilize single or multiple screens (venue specific as the needs fit) and most have a single tape/disc of switched camera shots recorded during the main venue service. Most will only include the sermon/message portion from the main service, opting for live (and often different) music, or video roll-ins for these alternative worship services. The biggest difference is in the contextualization of the service type.