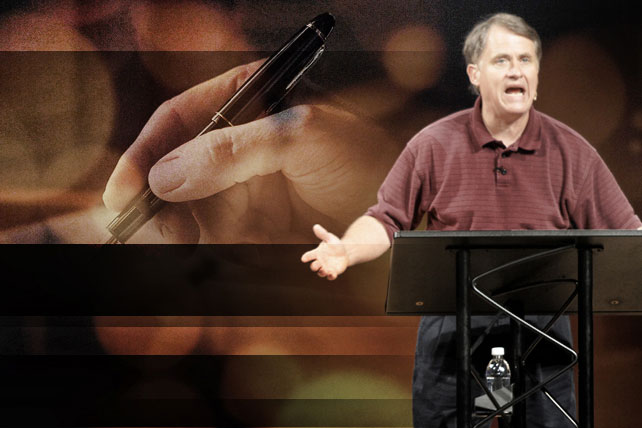 In 1970, when I was 16 and a new Christian, friends invited me to an evening class on the Gospel of John taught by John G. Mitchell, one of Multnomah School of the Bible's founders. I became hooked on Bible study and knew my future was at Multnomah.
I completed my bachelor's work in 1975, married my favorite Multnomah student, Nanci, and soon entered the school's new master's program. One of my favorite theology professors, Dr. Joseph Wong, scratched on a term paper: "You should consider being a writer." I took it to heart. (And have often thought about the power of brief encouraging words.)
In 1985 I wrote my first book, Christians in the Wake of the Sexual Revolution (now out of print). Since then I've written 40 more. I enjoy writing both fiction and nonfiction. After I've finished a novel, I'm always ready for nonfiction, and after two or three nonfiction books, I'm eager to tackle another novel.
Not many writers move back and forth between fiction and nonfiction. I've been told it's not smart branding—supposedly it muddles people's perception of a writer. Honestly, that doesn't concern me. I ask God to direct me toward each project. He has, and I'm grateful to be able to write—everything from detective novels and other-worldly fantasy, to children's books, to theological works large and small, on subjects such as money, Heaven, purity, grace, truth and suffering.
Last year I finished a graphic novel (comic book style), with a fantastic artist, and I'm working on a book about a biblical view of happiness. I love stretching myself as a writer. My favorite parts of writing are reading and researching extensively, indulging my thirst for learning, and interviewing interesting people.
Every writer needs a mission. Mine is to probe our deepest longings for something more, then open a door into the invisible realm so readers can see ultimate realities. One glimpse of the other world weans us from the illusion that reality is limited to our five senses. My life verse is, "We look not at the things that are seen but the things that are unseen; for the things that are seen are temporary, but the things that are unseen are eternal" (2 Corinthians 4:18). Once we see differently, we live differently.
Writing is both energizing and draining. Sometimes it's a joy. Sometimes, under deadlines and multiple 14-hour work days, it feels like a long battle: You just want to be done. And though a book never feels done, eventually you must turn it in.
I thank God for the privilege of being his errand boy, delivering the message that it's not about me, it's about Him. I don't always succeed, but living that way is pure pleasure.
I often hear, "I want to write a book." I'm convinced most people don't really want to write a book, they want to have written a book. Some people view writing as easy—not a real job. A physician said, "When I retire I'm going to become a writer." Well, if he's not writing now, waiting until retirement may be too late. What if I said, "When I retire from writing I'm going to become a physician"? Whatever the profession, it takes decades of practice to become the best you can be.