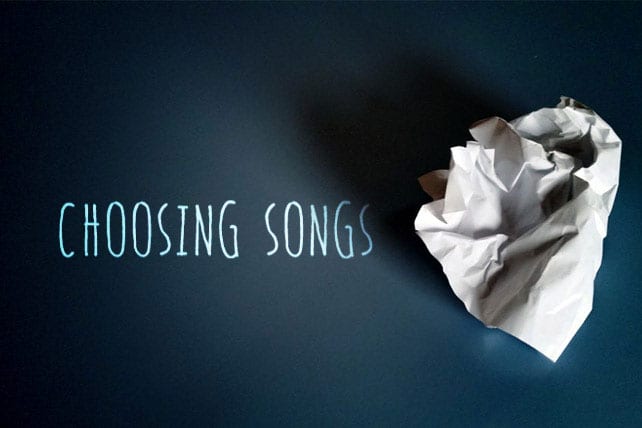 There are few responsibilities that a worship leader should take more seriously than choosing songs for his or her congregation to sing. In the words of the theologian Gordon Fee, "show me a church's songs and I'll show you their theology." With centuries of older songs, and an ever-increasing library of new songs from which we can choose, how is a worship leader supposed to prioritize what to put on their congregation's lips?
I have found it helpful to think in thirds. Visualize each of these thirds as a slice of one whole pie. The size of each slice will change depending on your own context, culture, and even particular service and/or venue. But a healthy repertoire, with the goal of shaping your congregation's sung theology in a balanced way, will typically draw from these three thirds.
The ancient
Every church should have a list of at least (!) 20-30 ancient hymns that their church can sing. Why? Because we don't want to fall into what C.S. Lewis describes as "chronological snobbery," a trap that ensnares far too many worship leaders, causing us to think that newer is better, and older is worse. We have centuries of well-written and robustly-scriptural hymns that we would be fools to ignore. Do them as written, do them with a rock band, do them with new choruses, or do them with organ and timpani. But do them.
The proven
It's been about 50 years since the worship renewal movement hit, thus spawning hundreds of thousands of new songs. It's been long enough now for us to know which ones are worth keeping and which ones are not. It wouldn't be a good idea to be "stuck" in the '80s or '90s, but it would be an equally bad idea to pretend they didn't happen either. Sure, most of them have lost their new-car smell by now, and might make the chronologically-snobbish among us tempted to turn up our noses, but some of them deserve an occasional place in our repertoires, if for no other reason than to simply honor those people in our congregations for whom those songs are actually quite helpful.
The modern
So we have the ancient hymns, the proven and tested songs of previous decades, and the new songs being written by the church today. By focusing first on the biblical faithfulness of the lyrics, second on the congregational accessibility of the music, and third on the particular and pastoral usefulness in your own context, you can filter out a substantial amount of new music. Then, you add to your church's repertoire new and fresh songs that help your congregation (in the words of John Piper) "see and savor Jesus Christ." Some of these songs will last for decades and join the slice of the pie I call "the proven." Who knows, maybe in 100 years they'll be classified as "the ancient" by your grandkids. Or maybe they'll fall away in a few years' time. And that's OK.
The goal for all worship leaders should be to maintain a repertoire of songs that serves the congregation whom God has called them to serve. In my setting at Truro Anglican Church in Fairfax, Virginia, that means I keep these three slices pretty even with one another (with the second slice, "the recent," being the smallest, and the two other slices "the ancient" and "the modern" being bigger).
None of our respective "pies" will look exactly the same.
But, as worship leaders, if we're thinking discerningly, and choosing songs wisely, then hopefully the songs that we're choosing will help our congregations have a sung theology that has sufficient enough roots that it's also able to branch out.