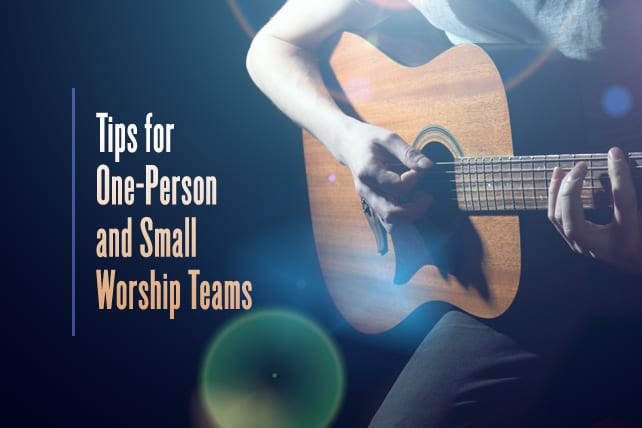 Some of you may not have the advantage (and accompanying challenges) of leading and/or serving with a full worship team each week (or anytime for that matter). You may find yourself, more often than not, a one-man or one-woman worship band. From my own experience of leading worship by myself and in smaller ensembles, I know this can present numerous challenges. It can also yield fruitful blessings for you and your congregation.
One time, I served in a worship band that consisted of me singing while playing acoustic guitar, a lead male vocalist who also played acoustic guitar, and a keyboardist who sang tenor harmony. This smaller band is atypical for our worship gatherings and it presented a number of challenges for us as we arranged the songs without a bass player, electric guitarist or drummer. We set out to utilize the strengths of each band member and also embrace new musical challenges without complicating things unnecessarily. Additionally, we wanted to serve the congregation by encouraging them to actively participate in creating music with us by singing out (since they'd be able to hear themselves better, given the smaller sound we were generating) and adding percussion with hand clapping on upbeat songs.
For example, I usually play keyboard with the band and would consider myself stronger on that instrument than on guitar. But for this band, the other keyboardist is much more proficient than I am so it made sense to let him carry the keyboard load, which also freed me to focus on leading vocally. I was also asked by the band leader, Justin Shaffer, to try my hand at percussion (maracas) while adding vocal harmonies on one of the up-tempo songs. He led the song and, along with the keyboardist, carried the musical weight of the song. We encouraged the congregation to clap and keep time with us and the result was very uplifting for all of us.
For two other hymns that I led, we followed more traditional arrangements in which I did not play any instrument, and on one of the hymns ("It Is Well With My Soul") only the keyboardist played. This yielded a powerfully encouraging sound as the congregation robustly rang out the truths of this familiar song. For the other songs, I played rhythm on the guitar while the other acoustic guitarist utilized his exceptional skills playing lead parts.
Since we were without a bass player, the keyboardist emphasized the bass notes in his playing to help fill out the sound, while also adding some beautiful and interesting lead parts during musical interludes.
The last hymn we played, "O Church Arise," is one our congregation loves to sing, so we did our best to arrange the song in a way that best accompanied our congregational choir. We even added a driving kick bass drum (played by Justin, as he continued to play guitar) for parts of the song which emboldened all of us to clap on every beat and sing confidently together.
As a one-member band (or even a two-to-three member band), you will need to acknowledge your limitations and realize your reach in order to be most effective in leading. Maybe your band consists of you singing and playing a lead instrument (like piano, organ or guitar). Or maybe it consists of you singing while being accompanied by a non-singing lead instrumentalist. Maybe you sing while playing a lead instrument and have another lead musician supporting you. Whatever your small band may look like, there will be certain arrangements of songs that will simply not be possible for you to achieve. THIS IS OK.
With limited sounds and support in your team, you have the opportunity to simplify arrangements which can serve your congregations very well if you make the most of this opportunity. Remember to consider the strengths of your band members and emphasize and utilize them well. At the same time, consider the weaknesses of your band members and strive to improve in those areas before putting them to the test in your service times.
As an example, if your keyboardist is highly skilled in playing traditional arrangements of hymns but less skilled in playing more improvisational arrangements of contemporary worship songs, then make good use of her stronger skill and consider incorporating more traditional hymn arrangements into your worship sets. At the same time, you could encourage your keyboardist to listen to a variety of contemporary styles of music to help her learn to play along with contemporary arrangements of worship songs. You could also conduct special practice sessions for listening and discussing together new sounds and arrangements for everyone to be working on long-term. When the team is ready, introduce those arrangements in your worship gathering.
We're sure that many of you have a wealth of experience leading by yourself or in a smaller band, and have much instruction and encouragement to share with us here. We welcome and invite you to add any helpful tips and words of encouragement in the comments section below. We all have much to learn!