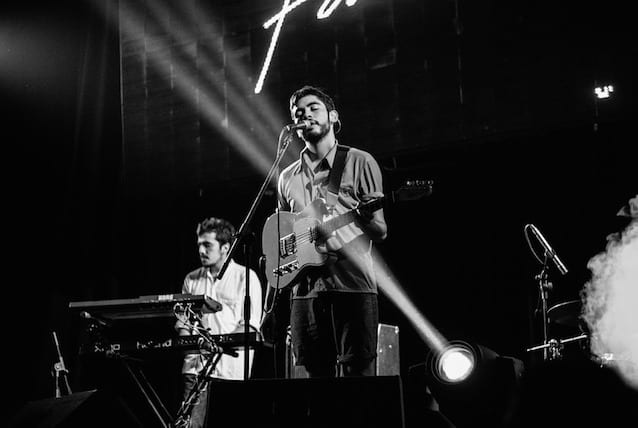 You know what's easy? Noticing what everyone else is doing wrong. You know what's hard? Admitting when you're the problem.
Jesus knew that when he said to remove the log in our own eye before we remove the plank in another's. And so when I talk about genuine worship, I long for that reality in my team – that every musician, every singer, every volunteer would be focused on the main thing. But I know it starts with me.
Leader, it starts with you. Really, it starts with all of us taking responsibility for ourselves. You may be a worship leader, a singer, an admin, or a guitar genius.
Guard your focus. Most people enter into ministry or volunteering in a local church with a passion for the glory of God. They've tasted and seen He is good and they want others to see what they have seen. To taste what they have tasted. To know the God they have come to know.
People want to make a difference in the world. To move beyond meeting their own needs and making a living.
But at some point along the journey, a person's talent can become central. It becomes less about ministering to the Lord and more about getting an opportunity. It becomes less about others encountering the greatness of God and more about being scheduled more. It becomes less about serving your local church and instead your local church serving and stroking your ego.
As Ryan Holiday says in his book, Ego is the Enemy:
Ego is the enemy of what you want and of what you have: Of mastering a craft. Of real creative insight. Of working well with others. Of building loyalty and support. Of longevity. Of repeating and retaining your success. It repulses advantages and opportunities. It's a magnet for enemies and errors."
It's a slow decline. Envy, ego, & self centeredness don't show up overnight.
No one wakes up, steps in front of the mirror and says:
I am going to be a jerk today. It's all about me, my talent, and my opportunities. I'm going to withhold encouragement from others. I'm going to complain behind my leader's back. I'm going to stir up dissension. I'm going to be unhappy and bring my worst attitude to draw attention to everything that's wrong with the church and everyone in it. It's all about me and my needs. You can do this, self. Let's wreak some havoc today."
It's never that. But our actions can quickly and easily line up with this viewpoint even though we'd never phrase it like this.
It's when we allow our eyes to drift from the Savior to the stage.
It's when we trade compassion for criticism.
It's when we make ourselves the center rather than the glory of Jesus and building up the body of Christ. It's a week by week, moment by moment choice.
3 Ways to Foster Genuine Worship
Let's talk about some ways to combat our tendency to self absorption:
1.Set Up Humility Reminders – Certain habits in life are automatic. I don't need to be reminded to eat lunch. Before I realize what's happened, I'm at Chipotle inhaling an extra meat, Carnitas burrito bowl with mild and medium salsa, corn, guac, sour cream, and cheese. It's not a decision. It just happens. Similar to brushing my teeth, making coffee, or putting on clothes, humility isn't an automatic habit. If left to myself, I focus on myself. I need to be reminded. Daily prayer is a reminder. Or a book like this or this. Or even keeping this verse front and center throughout my day:
For even the Son of Man came not to be served but to serve, and to give his life as a ransom for many" (Mark 10:45).
Maybe for you it's an iPhone alarm that goes off every hour, saying "Be humble." The more you remind yourself, over time, the more automatic it will become.
2. Daily Expand Your Vision of the Savior – The day I stop learning is the day I stop leading. The moment I stop seeing the Savior is the moment I wander. This is why I need the Gospel every day. It's not just an event or a moment of decision. Daily Bible reading (or listening) isn't a matter of knowing Biblical facts. It's the difference between humility and pride. To go without it, I'm saying I can do this on my own. I have what it takes. But the Gospel reminds me that Christ is my source. And there's always more to see, more to experience.
3. Serve Beyond the Stage – If the stage is your only service opportunity, you have an increased chance of missing the point. You get a lot of compliments. Everyone sees you. You begin to crave the attention rather than a heart for serving. Here's a challenge: find a service opportunity that is purely based on interacting and connecting with people, meeting needs. This will keep your heart in check. And when it comes time to make music, it will be infused with heart, compassion, generosity, and service.
Let's chat. How do you guard against an out of control ego?
How do  you stay focused on serving people and kingdom priorities?