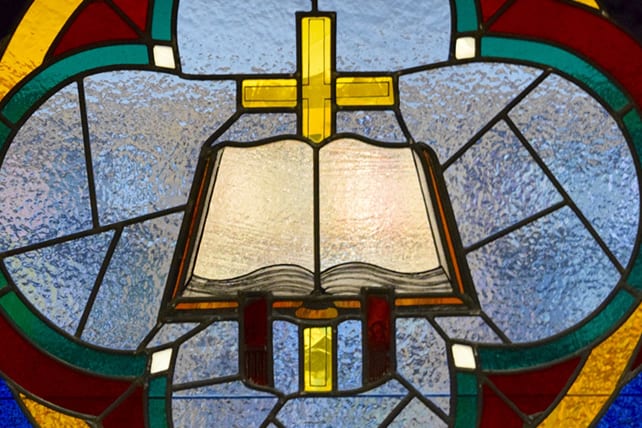 There are certain things that liturgy should aim to do. And, of course, things liturgy should not do. My very earliest memories of corporate worship are from the small Episcopal church my dad pastored in Clewiston, Florida, from the time I was born until I was three years old. I have fuzzy memories of the smells, the baptismal font, the rows of wooden pews, and everyone standing up and holding books in their hands. I mostly drew in coloring books and/or ate Cheerios.
When I was a teenager, God's call on me to serve the church as a worship leader became increasingly clear. Since that time, I've only ever served in liturgical Anglican churches, with the same kinds of smells, baptismal fonts, wooden pews and books in people's hands. And while a lot has changed in the way corporate worship looks and sounds, the liturgy has mostly remained the same. There have been revisions here and there, different rites, liturgies from other parts of the world, and certainly many controversies, but by and large, the liturgy that guides the weekly worship of my particular branch of the protestant church looks remarkably similar to how it did decades ago.
Liturgy has become more popular in recent years, so much so that now even many of my Baptist and non-denominational friends openly embrace the word, want to employ various liturgical elements in their services, and see its value. I think we all recognize that every church has a liturgy, after all. From the highest of high churches to the lowest of low churches, we have patterns, routines, traditions and ways of doing things that end up becoming our liturgy. With that recognition comes a right and good (I just threw in a liturgical phrase for my Anglican nerd friends) desire to make sure our liturgy is intentional, rooted, pastoral, biblical and effective in shaping people week after week with the good news of the Gospel through its pattern, structure and substance.
For those of us who employ elements of a more traditional liturgy in our services, it's worth asking the question from time to time, liturgy should aim to do what? And on the flip side, what should our liturgy NOT aim to do?
On the positive side, a more traditional liturgy should aim to do a number of things:
Liturgy should keep us rooted.
Psalm 145:4 says, "One generation shall commend your works to another, and shall declare your mighty acts." By sharing a liturgy that stretches back hundreds of years, we allow generations that have gone before us to commend God's work and mighty acts to us now.
Liturgy should keep us telling a story.
It's tempting for pastors and/or worship leaders to get stuck on their own hobby horses, their own favorite topics and their own musical styles. A more traditional liturgy can keep us in the habit of telling a story when we gather, with a robust diet of Scripture, creeds and prayers.
Liturgy should keep us responding. 
We hear who God is, and we respond in confession. We hear that we are forgiven in Christ, and we respond with praise. We hear God's his Word, and we respond in proclaiming what we believe. We hear the story of our redemption, and we respond with thanksgiving. The whole service is a dance of revelation and response, and revelation and response again.
Liturgy should keep us focused on Jesus.
The best thing liturgy can do is point us away from ourselves and to the glory of God revealed to us in Jesus Christ. For example, the Church Year itself, from Advent to Pentecost, annually walks us through the story of God's redemptive plan through Jesus' coming, living, dying, rising, ascending and sending of His Spirit. For a forgetful people who are prone to wander, the insistence of liturgy to point us to Jesus is a great gift.
But on the flip side, there are a number of things liturgies of any kind shouldn't aim to do.
Liturgy should impress God.
This should go without saying, but I'm going to say it anyways: Our liturgy does not impress God. The beauty of our worship, excellence of our music, smells of our incense or modernity of our technology does not impress God. We do not employ liturgy to impress God, we employ liturgy because it's a gift from God to help us worship God. We worship God, not liturgy. God accepts our praise through Christ, not through a formulation of beautiful words.