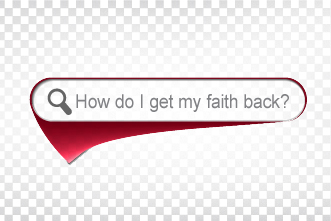 Recently, someone told me that some rough trials had rocked their faith, and they were unsure of how to get it back. First of all, I feel sadness and compassion for all who battle this kind of despair. Here are a few thoughts I hope will encourage anyone struggling like this:
If you desire to have faith, there's hope.
If you weren't born again, you wouldn't care. Isaiah 42:3 says about Jesus: "A bruised reed he will not break, and a faintly burning wick he will not quench." Jesus can fan smoldering faith into a flame. All he needs is faith the size of a mustard seed. It's Jesus' will that we have faith in him, and he loves to help us when we seek him.
Cry out to Jesus.
When a man said, "I believe, help my unbelief," Jesus responded and healed his child. Ask for faith. We have not because we ask not. Like the disciples, pray, "Increase my faith."
Read the Word.
Romans 10:17 says, "So faith comes from hearing, and hearing through the word of Christ." We dwindle in faith when we neglect God's Word. Hebrews says, "We must pay much closer attention to what we have heard, lest we drift away from it." (2:1) Start reading the Bible again if you've drifted from it. Listen to solid Biblical preaching.
Rehearse God's promises.

Get a book of Bible promises like The Jesus Person Pocket Promise Book, which contains 800 Bible promises. Read them and thank God for them. Tell God you believe his Word is true.
Recall God's past faithfulness to you.

Rehearse God's past goodness to you. Think of answered prayers. Remember all his benefits and ways he has blessed you, then bless him for these things. Especially thank him for bringing you to the cross and giving you faith in Christ.
Repent of unbelief.
Unbelief is a sin. Confess your unbelief to Jesus and ask his forgiveness. "If we confess our sins, he is faithful and righteous to forgive us our sins and cleanse us from all unrighteousness (1 JN 1:9).
Get back into fellowship.
Hebrews 3:13 says, "But exhort one another every day, as long as it is called "today," that none of you may be hardened by the deceitfulness of sin." We need others to encourage us in our faith, lest we be hardened by unbelief.
It's a fight to keep our faith in Jesus strong. But it's not by our own strength – Hebrews tells us that since we have a great high priest in heaven, Jesus, the Son of God, who is interceding for us day and night before the throne, we should hold fast our confession. And because he is a sympathetic priest who was tempted like us in every way (yet without sin), we should regularly draw near to him in prayer for mercy and grace in time of need (Hebrews 4:14-16).
Remember, Jesus wants you to have strong faith even more than you do.