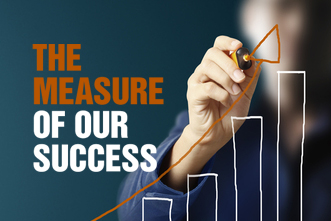 Our culture is obsessed with success. From businessmen to athletes, artists and teachers – we regularly evaluate our "success" by looking at sales, victories, scores and numbers. Christians and churches aren't immune from evaluating success in these categories. How should believers measure success?
Our church is erecting a nice (nothing fancy) facility that sits majestically (well, that might be stretching it-it looks good to me) on a hill next to a cemetery (hey, I won't have to go far when the time comes). Since we live in a small town, many have noticed the building.
Even complete strangers have commented about it when I mentioned where I work. Some have said things like, "You guys must be really doing something right." They are kind to say things like this, but if I believed them, I would be the true Fool on the Hill. The fact that our church even exists after all these years with me as Sr. Pastor is proof there's a living God.
In A Passion for Faithfulness, J.I. Packer says that today many define success:
…in terms of numbers of heads counted or added to those that were there before. Church-growth theorists, evangelists, pastors, missionaries, news reporters, and others all speak as if (1) numerical increase is what matters most; (2) numerical increase will surely come if our techniques and procedures are right; (3) numerical increase validates ministries as nothing else does; (4) numerical increase must be everyone's main goal.
Contrast this with what he says of Paul:
"He had seen churches born and for a time grow under revival conditions; but by the end of his life zeal was flagging, heresy was flooding in, persecution was starting, and the spiritual sky was darkening in every direction. As in his somber last letter he anticipates his death he has nothing to say about having been a success, only that, unlike some, 'I have fought the good flight, I have finished the race, I have kept the faith' (2 Timothy 4:7). He does not know whether he has been a success or not; all he is sure of is that he has been faithful, holding fast to God's truth and righteousness when others let both go."
If Paul had viewed his life in terms of success, he would have concluded he'd been a failure. But Paul pursued faithfulness, not success. Packer says:
"In the final analysis we do not and cannot know the measure of our success as God sees it. Wisdom says: leave success ratings to God, and live your Christianity as a religion of faithfulness rather than an idolatry of achievement."
So let's forsake the pursuit of success and seek to be faithful – faithful lovers of God, faithful friends, servants, students, spouses, employees, and neighbors. Let's fight the good fight, finish the race and keep the faith that we might hear God say, "Well done, good and FAITHFUL servant."