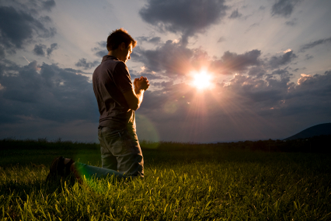 Believers in Jesus Christ are the richest people on Earth.
We have every reason to be cheerful, optimistic, glad-hearted, generous servants because we have been immeasurably blessed. In Jesus, we lack nothing. Though we may lack material goods and suffer affliction in this world, we look forward to an eternity of Christmas mornings where God will continually unwrap for us new riches in Christ, our Treasure. As Paul worshipped God for our blessings in Christ, so should we:
Blessed be the God and Father of our Lord Jesus Christ, who has blessed us in Christ with every spiritual blessing in the heavenly places, (Ephesians 1:3)
Paul regularly prayed for those he served to be able to grasp more of their riches in Christ. He prayed because they needed God himself to reveal his riches to them.
"Our problem is not lack of blessings, but lack of insight and wisdom to understand and use them properly and faithfully. Our blessings are so vast that the human mind cannot comprehend them. In our own minds, we cannot fathom the riches we have in our position in Jesus Christ. Such things are totally beyond the human mind to grasp. Only the Holy Spirit himself can search the deep things of the mind of God, and only the Spirit can bring them to our understanding." –John MacArthur, Ephesians
MacArthur recounts a Warren Wiersbe illustration:
William Randolph Hearst once read of an extremely valuable piece of art, which he decided he must add to his extensive collection. He instructed his agent to scour the galleries of the world to find a masterpiece he was determined to have any price. After many months of painstaking search, the agent reported that the piece already belonged to Mr. Hearst and had been stored in one of his warehouses for many years. –John MacArthur, Ephesians
How can I be discontented when I'm rich in Christ?
How can I be selfish when God has blessed me with every spiritual blessing in his Son?
How can I grumble when I know the Treasure of Treasures?
How can I be unhappy when I'm a joint-heir with Jesus?
How can I not want to serve others when God has been so lavish toward me?
How can I not praise God for his steadfast love and goodness to me in Christ?
How can I not marvel that he saved me?
Heavenly Father, thank you for your lavish, incomprehensible grace toward us in Jesus.
Thank you Jesus, for living, dying and rising again to make us joint-heirs with you.
Holy Spirit, thank you for opening our eyes to see the glory of Jesus. Please show us more today.