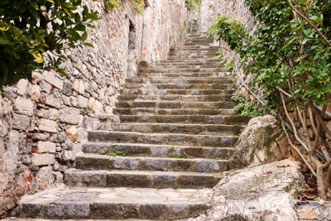 When the three members of No Other Name moved to Nashville, we didn't know the first thing about how to be "music artists." We knew we really enjoyed singing together. We knew we had a lot of fun together. And we knew singing and making music was something we wanted to do for a long time.
So Sam (my brother) and I left our lives in Florida, and Chad left his in Louisiana, and we set out for Music City, USA. That was a long time ago now, and the twists in the road have often astounded us.
The first several years of our ministry could probably be described as Christian entertainment. We sang songs that were encouraging and uplifting and powerful, and it was good. We had a lot of fun, and I don't think there was anything at all wrong with it. I believe we ministered to a lot of people. I really do.
But a few years ago, the Lord revealed a slightly different path for us. Yes, we'd still be "artists." But He gave us a new mission. We became encouragers as well as entertainers.
Through a series of unlikely events, He stirred our hearts for what He is doing around the world, and He gave us a passion for telling others about it — and for challenging them to get involved.
Along the way, we've learned some ways to do that. We can't claim to be experts, but here are three ways to encourage people to get involved in what God is doing that we have seen to be effective.
1. Challenge Them With A Story
When our record label brought the song "Lead You to the Cross" to our attention, we loved it immediately. We loved what it had to say. I'd never heard Paul's endeavor to be "all things to all men so that [he] might save some" put into a song. It challenged and intrigued me.
After we'd recorded it, we were asked about using it to help tell the story of one of my heroes. Martha Myers was a physician in Yemen for 25 years. She was a Jesus follower and a professional woman in a land that is hostile to both. But she persevered, and she helped establish a bustling medical center that is still the only one in the region. In 2002, she was martyred — gunned down by a fanatic who was angered by the love and compassion she had shown his wife. He realized that that sort of love was radical, and to him, it was dangerous and threatened his way of life. Now, Martha is buried there. The marker placed on her grave by the local people — patients and friends who'd loved her — simply says, "She loved God."
Of course we were honored that someone wanted to use our recording to help tell that compelling story. And now the song and the video have helped tell that story to thousands of people. It is not unusual for us to hear how God has used it powerfully in someone's life. About a year ago, a man told me the video for "Lead You to the Cross" was instrumental in his leaving a comfortable job to go into full-time ministry.
Of course, not every story has to be as dramatic as a modern-day martyr. What are your church's mission stories? What is God doing?
I'm often amazed by how little our churches use the simple testimony. Members see a new person baptized but never hear how that person came to faith. A marriage is restored through an outpouring of grace and forgiveness, but no one ever hears about it. Tell your own stories!
Is there a team that's been on a mission trip? By all means, give them time in a service to tell how God worked. Is there a ministry in the church that is seeing results? Tell about them! Nothing inspires an indecisive pew-sitter like hearing a fellow church member tell what God did for and through them.
2. Challenge Them With A Song
Like I've said, it was a song — "Lead You to the Cross" — that started us down this new path of challenging people to find their place in the Great Commission. One of the reasons we all loved that song immediately was the sheer, unvarnished evangelistic nature of it. You don't hear that much in songs anymore.
When I think of the great missions movements of the last 150 years, it seems they were accompanied by songs that explicitly called for missional living. "I Surrender All," "Rescue the Perishing" and "I Have Decided to Follow Jesus" come to mind. Now, it's impossible to say which came first — did the outpouring of God's Spirit and the awakening of His people lead to the writing of such songs? Or did the songs themselves help usher in the awakening? Perhaps a little bit of both.
As much as I love so much of the worship music being written now, there are precious few songs that challenge the believer to a deeper commitment to the Great Commission. While there is a fresh movement in the church toward a radical, sacrificial life of total abandonment to God's Kingdom, there are few songs that coincide with it.
That is one of the ideas we had in mind when we wrote our recent song "Let It Start with Me." We wanted to write a song that expressed our heart for the nations and might perhaps stir something in the hearts of those who hear it or sing it. For us, it is a prayer for God to change whatever He has to change in us so that He can use us to do His work.
Find the songs that resonate with your people and spur them on to deeper commitment. And then sing them!
3. Challenge Them With A Step
I remember as a kid hearing a song called "Please Don't Send Me to Africa" or something like that. For so long, the church compartmentalized "missions" to the point that it seemed the only real missionaries were those who got on a plane to Africa, never to be seen again. It's understandable that such a silly song would be written. People thought that's all there was to missions.
I am so thrilled to have seen that mindset change in my lifetime. I don't think there has ever been a larger army of people longing to see the Good News taken to the ends of the earth. Giving people a way they can be involved — even if they haven't been called to Africa — has been revolutionary. It seems the more someone is involved in missions on some level, the more passionate they are. And that passion wears off on others. And before you know it, there are more people who ARE called to Africa or some other place for the long haul. I have seen it work this way more than once.
What steps are you challenging your people to take? How can someone who's totally intimidated by going overseas or talking to a stranger get involved? Can they attend a missions prayer service? Can they educate themselves or others about God's work in the world right now? Once they start small, they'll want to do more.
One small thing we started doing at all our concerts a few years ago is putting passport applications on our CD table. We just printed one out and made copies and have continued to do so. We must have given out hundreds of them. And we have loved hearing stories of how God has used it. People have been able to go where God is leading at the last minute because they already had their passport.
Maybe you can have a Passport Sunday and pass out applications to every adult, encouraging them to follow through on getting their passport. Perhaps they will begin to envision themselves as people who could go anywhere at any time upon God's call.
I'm sure there are dozens of other small ways to encourage people to take that one step toward a more missional life. But these are ways that have worked for us in our ministry, as well as in our own daily struggle to be completely abandoned to Him.
For more information on Laura Allen and No Other Name, go to www.no-other-name.com