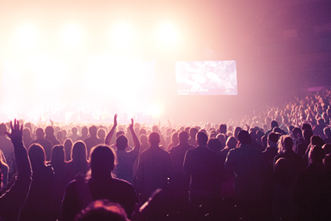 One of the most immediately noticeable renovations you can make to your worship center is to the stage area. When people walk into an auditorium, the first thing they see is the platform. Any change to it grabs attention and creates expectation about what might happen next.
The best part is that making those changes doesn't take a lot of money. Here are my top ten favorite staging resources from the theatrical world that can be used in worship.
1. Fabric
My favorite trade secret when I was doing set design was tricot – and yes, I am talking about the lingerie fabric. It is inexpensive, comes in varying weights, it stretches, and takes light beautifully, either from the back or the front. You can create soft form just by draping it. It can be hung in sails or stretched tight across a frame to create geometric shapes. You can also project pattern or video onto it. I recently saw an application where it was hung like a hammock with a crossbar at each end.
If you need more of a sheer look, try sparkle organza or iridescent crinkle organza. Both produce completely different results when lit and are also fairly affordable. You can purchase by the bolt from Web sites such as fabricdirect.com.
Another incredibly inexpensive fabric is interfacing (also called fusing). It has a certain amount of structure to it and will reflect light.
There are tons of more expensive specialty fabrics such as mirror cloth, dot spandex, and lame, which are worth experimenting with. Around the holidays, you can find gold and silver lame tablecloths, a potentially more affordable solution than purchasing by the yard. Check in your area for discount fabric outlets or mill outlets. They all carry inexpensive bolts of discontinued or flawed fabric that can be used in this way.
2. Sonotube
Sonotube is a brand of concrete form that can be purchased at Home Improvement (HI) stores like Lowe's or Home Depot. Think of a giant paper towel roll but much more durable. It comes in sizes from 6″ diameter to 36″ diameter, and can be used to create columns or cut in rings to build a ring wall. It can also be special ordered in different shapes (ie. Squares, Hexagons) and lengths. Because it takes weight so well, you can actually use it to build structures as long as you secure it. Once I built a balcony and used Sonotube as the support.
It can be used for tree forms, where the bark is created either by using a "paper mache" effect with 2″ strips of cloth dipped in a glue solution or bark "sprayed on". (Foam insulation looks remarkably like bark when sprayed in lines then painted.)