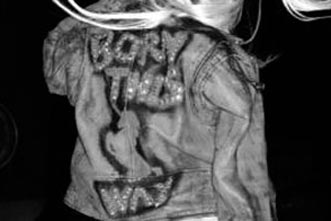 Lady Gaga's a bit mysterious: wearing dresses made of meat, hanging herself during live performances, and leaving her eyelashes on the pillows of her lovers.
But "mystery" has left the building with her brand new song, Born This Way. When it comes to Gaga's views on homosexuality, the only way to describe her is "crystal clear."
The Mother Monster
Lady Gaga is an international superstar, but she doesn't have a single fan. Instead, she has "monsters" (fans) and refers to herself as "The Mother Monster." If you don't know who Lady Gaga is, our archived Youth Culture Window article is a must read. It tells the story of Stefani Germanotta and her metamorphosis into Lady Gaga, helping you understand why (and how) she puts herself at the center of entertainment, culture, and controversy in America today.
Lady Gaga is no stranger to debate or the political scene; she tried to rally her fans and voters against the "don't ask, don't tell" policy during last year's midterm vote. Her speech hinged on the idea that "equality is the prime rib of America." At the 2010 VMAs on MTV, Lady Gaga donned a dress made out of (real) meat during one segment of the show. (She's known for her many strange costume changes during the annual program.) Though it confused most people – and even angered PETA – it was Gaga's attempt at a jab at the U.S. military for not allowing gays and lesbians to serve openly in uniform.
The latest news surrounding Lady Gaga is her work on a perfume that smells like semen and blood. (Just in time for Valentine's Day…) Wow, our wives would love a bottle of that!
Born This Way
That's actually the title of her upcoming (and eagerly awaited) song. (A side note—it will be interesting to see which album cover releases with the song and her new album. Most of the images we've seen so far have nudity- including the original image of the one we edited/cropped above—truly the cleanest one in the bunch. She doesn't seem to like wearing pants very much.) On the night she won a record-setting 8 awards at the 2010 VMAs – including the top prize of Best Video – a tearful Lady Gaga burst into previously unheard lyrics from the chorus of her yet-to-be-released song, Born This Way. Since that moment, millions – on both sides of the fence – have waited for the release of the song so they could buy it…or bash it.
I, Jonathan, have been following Gaga on her Twitter page every since I wrote the original article about her on our Web site. On January 27, 2011, Gaga tweeted from her BlackBerry, "Maybe I should leak the lyrics to Born This Way today, whatdya say." She followed through on her offer, much to the delight of millions of her "monsters." Here is the song's complete set of lyrics:
IT DOESN'T MATTER IF YOU LOVE HIM OR CAPITAL H-I-M
JUST PUT YOUR PAWS UP
'CAUSE YOU WERE BORN THIS WAY, BABY
MY MAMA TOLD ME WHEN I WAS YOUNG
WE ARE ALL BORN SUPERSTARS
SHE ROLLED MY HAIR AND PUT MY LIPSTICK ON IN THE GLASS OF HER BOUDOIR
"THERE'S NOTHIN WRONG WITH LOVIN WHO YOU ARE"
SHE SAID, "'CAUSE HE MADE YOU PERFECT, BABE"
"SO HOLD YOUR HEAD UP, GIRL, AND YOU'LL GO FAR,
LISTEN TO ME WHEN I SAY"
I'M BEAUTIFUL IN MY WAY
'CAUSE GOD MAKES NO MISTAKES
I'M ON THE RIGHT TRACK BABY
I WAS BORN THIS WAY
DON'T HIDE YOURSELF IN REGRET
JUST LOVE YOURSELF, AND YOU'RE SET
I'M ON THE RIGHT TRACK, BABY
I WAS BORN THIS WAY
OOO THERE AIN'T NO OTHER WAY
BABY, I WAS BORN THIS WAY
BABY, I WAS BORN THIS WAY
OOO THERE AIN'T NO OTHER WAY
BABY I WAS BORN
I'M ON THE RIGHT TRACK, BABY
I WAS BORN THIS WAY
DON'T BE A DRAG -JUST BE A QUEEN
DON'T BE A DRAG -JUST BE A QUEEN
DON'T BE A DRAG -JUST BE A QUEEN
DON'T BE!
GIVE YOURSELF PRUDENCE
AND LOVE YOUR FRIENDS
SUBWAY KID, REJOICE YOUR TRUTH
IN THE RELIGION OF THE INSECURE
I MUST BE MYSELF, RESPECT MY YOUTH
A DIFFERENT LOVER IS NOT A SIN
BELIEVE CAPITAL H-I-M (HEY HEY HEY)
I LOVE MY LIFE, I LOVE THIS RECORD, AND
MI AMORE VOLE FE YAH (LOVE NEEDS FAITH)
DON'T BE A DRAG, JUST BE A QUEEN
WHETHER YOU'RE BROKE OR EVERGREEN
YOU'RE BLACK, WHITE, BEIGE, CHOLA DESCENT
YOU'RE LEBANESE, YOU'RE ORIENT
WHETHER LIFE'S DISABILITIES
LEFT YOU OUTCAST, BULLIED, OR TEASED
REJOICE AND LOVE YOURSELF TODAY
'CAUSE BABY, YOU WERE BORN THIS WAY
NO MATTER GAY, STRAIGHT, OR BI,
LESBIAN, TRANSGENDERED LIFE
I'M ON THE RIGHT TRACK, BABY
I WAS BORN TO SURVIVE
NO MATTER BLACK, WHITE, OR BEIGE
CHOLA OR ORIENT MADE
I'M ON THE RIGHT TRACK, BABY
I WAS BORN TO BE BRAVE
I WAS BORN THIS WAY, HEY!
I WAS BORN THIS WAY, HEY!
I'M ON THE RIGHT TRACK, BABY
I WAS BORN THIS WAY, HEY!
I WAS BORN THIS WAY, HEY!
I WAS BORN THIS WAY, HEY!
I'M ON THE RIGHT TRACK, BABY
I WAS BORN THIS WAY, HEY!

Well…at least the song's not as vague as Puff the Magic Dragon.
A Clear Message (That's Clearly Flawed)
If we were to sum up this song's message, we'd say, "Lady Gaga believes homosexuals are born that way, so let them live that lifestyle because they cannot help it." As lovingly and respectfully as we can, we must say there's a lot about this song, and its message, that's intrinsically wrong and internally incongruent. Just take a look at some of the key lyrics in this song to see for yourself.
For starters, Lady Gaga encourages her listeners to "just love yourself and you're set." Unfortunately, it's not as easy as that. Honestly, we sometimes wish it were! But it's simply not. If a guy goes around shooting other people – but loves himself – is he "set" by cultural standards? Just ask anybody impacted by the actions of Jared Loughner. You'll get a resounding "no!"
Is the woman who displays wrathful anger to everyone a perfectly capable benchmark for civility…so long as she loves herself? Is the kid who steals from others (to sustain a drug habit) off the hook because he loves himself? Nope and nope.
Although a healthy self-esteem is a good thing, I'm not "set" just because I happen to love me. Neither are you. Neither is Lady Gaga.
Furthermore, as followers of Christ, our identities and our value must come from who we are "in Christ." Consider the words of the Apostle Paul in I Corinthians 4:5 when he said, "We don't preach ourselves, we preach Christ the Lord." As believers, our value flows from what Jesus did for us.
But Gaga isn't looking from that perspective. If we continue to look at her lyrics, several times, Lady Gaga also goes on to say, "Oooo there ain't no other way." Are her listeners to believe that if homosexual tendencies are sensed by a person, they should simply give up hope, give in, and go fully gay? After all, "there's no other way."
I'm not buying it. The alcoholic celebrating 17 years of sobriety would never lend himself to that logic. "Well, I want a beer -really badly – and since there's 'no other way,' I guess I'll just give in."
We can keep the conversation about sex, but switch to a heterosexual orientation. I'll humbly display some personal vulnerability here to make the point. I, David, am a married man, a man who gave certain promises to a certain woman on September 15, 2001 (yep, just days after the terrorist attacks). Those promises must define me as a husband, father, pastor, and person…even though, at times, a promise-breaking sexual desire (or two) rears its ugly head in my mind or heart.
Am I to say to myself – and my wife – when a beautiful woman walks by, "Well, 'there's no other way,' so I'm just gonna give in to these strong urges I feel…and go have an affair"?
Let me, Jonathan, take it a step further—and I apologize ahead of time for this taboo example. But what if a voluptuous 14-year-old girl walked by David when he was sitting by the swimming pool. If David were to allow himself to look at her body and observe it's beauty, he could very realistically start desiring her. I know many of you might think, "That's sick!" Trust me, as a father of a 13-year-old girl and a 15-year-old girl, I readily agree. But do you realize how many men look at porn sites that advertise "Teens"? Let's face it. Women—even young girls—look good to men. So should men just give themselves up to that desire and say, "Wow, I guess I was just born with this desire?"
Should we just give into every sexual urge, no matter how taboo?
Should we give into anger every time someone cuts us off on the freeway?
Should we give into the desire to overeat?
What if we were "born" with those desires?
Lady Gaga's mindset reeks of flawed logic, a defeatist attitude, and a search for behavioral justification. So when she says, "There's no other way," the truth is, "Actually, yes there is!"
Did God Make Us This Way?
Let's take a more spiritual slant in our conversation (because that's what Lady Gaga's lyrics invite us to do). Without a doubt, Lady Gaga insinuates that God made her a homosexual:

IT DOESN'T MATTER IF YOU LOVE HIM OR CAPITAL H-I-M
JUST PUT YOUR PAWS UP
'CAUSE YOU WERE BORN THIS WAY, BABY
and
"THERE'S NOTHIN WRONG WITH LOVIN WHO YOU ARE"
SHE SAID, "'CAUSE HE MADE YOU PERFECT, BABE"
and
I'M BEAUTIFUL IN MY WAY
'CAUSE GOD MAKES NO MISTAKES
So we're to believe that God created Lady Gaga – and certain others – to be homosexual. I'm not buying that either, for two main reasons.
First, Lady Gaga makes the scientific assertion that she was, in fact, born this way (as a homosexual). That's a fascinating claim for a pop star to make – especially a pop star without any training in the world of genetics. Of course, we've both had zero training in that discipline, as well, but we've read a ton of literature and research on both sides of the argument. As a result, we know the only true assertion that can be made about homosexuality's connection to genes echoes the findings of Simon LeVay, the famous genome researcher and gay activist. Here is his finding: a homosexual-causing gene has yet to be discovered. Note: this wasn't James Dobson or some TV evangelist saying this. This is geneticist Simon LeVay. Perhaps Gaga should listen to LeVay, and then she would realize that her "born this way" theory holds no water.
Second, Lady Gaga is making a spiritual assertion at the same time. (By the way, I just love it when celebrities pretend to be theologians.) Lady Gaga wants us to believe that God would intentionally create people in a fashion that's contradictory to His desires for their life as revealed in the Bible. Everywhere homosexuality is mentioned in the Bible, it's denounced as a sinful lifestyle. To be clear, God loves homosexuals, and so should the Church and its leaders, but the Bible makes it clear that homosexuality is a sin (like all others) that people need to be rescued from by Jesus.
But that's not Lady Gaga's only interaction with spiritual matters. She also confidently declares in her song, "A different lover is not a sin." Fair warning, Lady Gaga, if you're gonna use God's terminology (sin), you're gonna have to use it in the same context He did.
Not even a reckless reading of the Bible (Old Testament or New) would yield an interpretation even close to the one Lady Gaga purports. Sex outside of marriage has always been labeled as sin by the Bible. And, by the way, marriage, according to the Bible, was always between men and women.
It's really easy to see that Lady Gaga is propping up her entire argument on some very shaky ground. But since it's Lady Gaga who's making all the noise, millions of teenagers will listen to what she has to say, regardless.
Lady Gaga isn't saying anything new in her song; her message is consistent with the one propelled by many advocates of same-sex marriage and an openly gay-friendly military. But it's a powerful and polarizing message nonetheless. Several groups – besides Christians – have already spoken out against her song. According to MTV, the Chicanos Unidos Arizona and MEChA are upset over Gaga's use of the words "Chola" and "Orient" in the tune's lyrics.
But what should we as parents and youth leaders do with her song?
"For you created my inmost being; you knit me together in my mother's womb. I praise you because I am fearfully and wonderfully made; your works are wonderful, I know that full well." (Psalms 139:13)

"Before I formed you in the womb I knew you…" (Jeremiah 1:5)
In all things, model the love of Christ. The Bible records no instance of an interaction between Jesus and a homosexual. However, many stories are shared about Jesus' interactions with sinners, including a woman who was caught having an extramarital affair (John 8). Jesus always spoke in loving ways to people caught up in sexual sin, while also sharing with them an uncompromising truth. So whether you're discussing the issue/song with someone or teaching a lesson on it or trying to take a stand, remember to do it the way Jesus did it: with love.
Be prepared to discuss this issue/song (at length). My prediction is this song will be big. Not only is there a name like Lady Gaga behind it, but it's been discussed and anticipated for months. But even if the song tanks and never threatens the top of the charts, it will still make plenty of waves (which is almost as good as far as Lady Gaga is concerned). So be prepared to have residual conversations about this issue/song with the teenagers in your life. One talk probably won't do the trick.
Don't be afraid to quote the Bible in your discussions. Granted, there are plenty of reasons to reject homosexuality that have nothing to do with the Bible, but since Lady Gaga has invited God into the conversation via her song's lyrics, feel free to (lovingly) use His Word to let Him weigh in on the subject. Again, the key is "love." Frankly, the homosexual community's decision to bring God into the conversation only increases the arguments against their agenda, but since they did, our responsibility is to present a well-crafted, loving, life-redeeming response to them. If you need a little help with that, check out this lengthy article on the subject.
In the end, Lady Gaga "thinks" she was born gay (even though she cannot prove it). Let me tell you what I "know" about Lady Gaga's birth (or, Stefani Germanotta, as she was called at the time).
That is how Lady Gaga was born! So join us in praying that Lady Gaga will also experience the second birth that Jesus talks about in John 3, the spiritual birth that will lead to her eternal life.