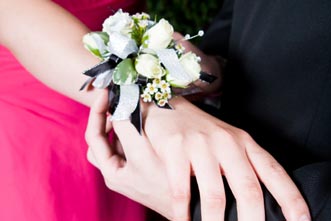 Rented tuxedos and limousines. Knee Length Dresses, dinner reservations, and corsages. It takes a lot to pull off the big night guys and girls will "remember forever." But what sort of memories will the proms of 2011 evoke in the minds of kids in the years to come?
Ahhh…prom. Some of us can look back on that special evening and recall fond memories of attempted romance, while others cringe remembering the "epic fail" it turned out to be. As the proms of 2011 quickly approach, it appears as though some will go great, some will go badly…and some will go down in history.
Regardless, this year's proms will be "the night" of many kids' lives. Here are just a few reasons why.
Show Me the Money!
Kids are willing to spend big bank on prom. BIG BANK!
Prom is big business. Flower sales go way up due to the necessity of specialty items like corsages, and clothing retailers enjoy the masses of girls who lay down stacks of cash for prom dresses. Salons are slammed all day with constant primping, and transportation services make plenty of money from limousine rentals. I know the owner of one tuxedo rental store who routinely "makes his year" through the income generated by young men who get their monkey suits from him.
All in all, when MSN Money looked into the total price tag associated with the special occasion, they found that proms could easily cost more than $1,000 per couple. But many teenagers seem willing to pay the price – or better yet, have mom and dad pay the price – for the festive occasion.
And to think, most of those expensive prom dresses will only be worn once.
Dress Code Violations
Speaking of prom dresses, lots of parents are talking about the observable new trend in formal female attire that's being described as "slutty chic." These (very) revealing dresses are a long way from the puffy, long, modest gowns worn by girls in years past.
The popularity…and well, sluttiness…of these kinds of dresses has even prompted one Saks Fifth Avenue sales rep (who makes her living selling these dresses) to say, "I can't believe that mothers let high-school girls buy these dresses for prom."
Hmmm…that's fairly telling.
By the way, it seems that the sexy dresses are rivaled only by the sexy dance moves that happen on the prom floor. If you've never heard of "grinding," "doggy dancing," or "front piggy-backing," you may need to watch the beginning of this YouTube video that…ummm…illustrates…a few of the racy moves.
But girls who want to wear revealing dresses aren't the ones who've caused the most commotion over this year's coronation; that title is reserved for one lesbian teen who wants to wear a tux to her prom.
When Itawamba County's school board canceled Constance McMillen's senior prom because she wanted to wear a tux and bring a female date, the young lesbian put Fulton, Mississippi, on the map by asking the ACLU to help her fight the school board's decision. It's a story that brings themes of homosexuality, civil rights, and values to the forefront of a raging debate.
The lawmakers have finally spoken, and who actually won the dispute depends largely upon who you listen to. While the federal courts have ruled that it was unconstitutional for the school to cancel the 18-year-old girl's prom because she wanted to bring a female date and wear a tux, they also didn't overturn the school board's decision to cancel the prom for this calendar year, either.
In the end, it doesn't really matter whether or not McMillen's high school hosts a prom; parents who sympathize with Constance's situation have promised to host an event where she's welcome to wear a tux and bring her same-sex date.
But Constance isn't the only one who's attracting attention over prom dates this year.
She's with Him???
Last week, a dorky kid from Colorado named Conner Cordova became the envy of every jock and stud on every high school campus across the nation. That's because he took an FHM and Maxim Magazine model named Arianny Celeste to prom as his date. (If you've never read those two magazines…and I hope you haven't…just imagine soft-core pornography made available to anyone regardless of age.)
Now, I don't want to perpetuate a hierarchy of people or a caste system…but if there was ever a girl who was out of a guy's league, this was the girl!
I mean, they don't even exist on the same plane.
But Conner's not one to let reality stand in the way of his dreams. Knowing he'd need a miracle to land the "octagon girl" who treads the mat in his beloved sport known as Ultimate Fighting Championship, Conner did what any desperate dude would do: he posted a video on YouTube.
His video showcased all he could offer the famous female model: his patented booty-shaking moves, dinner, and a ride in a limo.
Well, it turns out that Arianny couldn't resist such a tempting offer. Last week, she was escorted into a Colorado high school on Conner's arm, where he had the night of his life and earned a kiss at the end for all his effort.
Wait a second. Come to think of it, her decision could also have been due to the pressure her UFC peers put on her…and all the positive publicity the stunt will grant her.
That, or those booty-shaking moves. Hard to tell.
Unfortunate Timing?
Prom has happened at the same time for decades. Somewhere around March or April of every year, high schoolers begin decorating their gymnasium or renting the ballroom of a local hotel to make the formal occasion possible.
It's no secret that many kids will have sex on their prom nights. It's no secret that lots of kids drink during their prom outing. It's also no secret that alcohol and sex are related; after all, inhibitions have a way of falling when the glasses are raised.
In the U.S. Department of Health and Human Services' most recent study, they reported that over 25% of kids drank alcohol in the past month (with some areas reaching a high of 40%). If last month was such an "intoxicated" one, some wonder how much drinking will happen this month when most schools are hosting their proms.
Separating the Drama from the Dance
There are several things parents can do to make sure the night stays on course for couples instead of getting derailed by all the potential pitfalls.
First, take their prom seriously…mainly because they take it seriously. Just in case you've forgotten the fine art of remembering your teenage years, take a moment to reflect on how important your prom was to you, no matter how it actually turned out. That's how they feel about theirs.
Second, stay somewhere between naïve and psychotic. Don't assume that your teen is perfect in every way, but also steer clear of assuming your kid is up to no good…all night long. One of the best ways to strike the preferred balance comes from talking with your teen about their plans for the night. Make sure to squeeze in a few conversations with them before the big night arrives. Who knows? Those conversations could greatly impact the choices they make that evening.
Finally, if you have reason to believe that your teen (or his/her close friends) may stray into trouble or danger…or both, you might consider providing a few exciting and safe alternatives for the couples. "Breakfast at Midnight" – which is exactly what it sounds like – is a surefire way to attract hungry teens on a budget who are also looking for a good time. Just buy tons of waffle mix and OJ, and let it be known that it's an all-you-can-eat-buffet at your place. Further, if you have a pool, you may want to promote a (supervised) pool party. If you can do both, that's food AND fun!
Prom almost always makes an impact on teens' lives. With your careful supervision and influence, this year's prom can be not only a great one but a safe one as well.