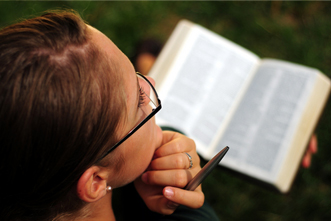 The emphasis of ritual in the American youth ministry context is underestimated and underpracticed.
The church has already given us two really simple and easy rituals: Communion and Baptism.
But why have student ministry departments forgotten to stop, talk, do stuff, remember, and laugh together? I think more youth ministries need frequent rituals that shape their youth group values, identity, and theological focus. Establishing sacred rituals will set your group apart from every other group.
Rituals are consistent activities that give meaning to the Scriptures and to the faith community.
In fact, rituals greatly help to bring more unity and focus within the group. Youth ministries need experiences and environments that allow for reflection, discussion, and celebration amongst the students. There is power when a youth ministry can link experiences and Truth and give it meaning. When there is a tri-linking of ritual, experience, and Scripture, students begin to enter into the story of God and realize that the Christian faith has deep history.
Designing a youth ministry that incorporates consistent memory makers (rituals) can assist students to remember things of the faith and connect them back to the faith and to each other.
In Judaism, rituals are at the core of religious belief and practice. Jewish people have rituals for praying, eating, funerals, weddings, Sabbath, mourning, seasons of the year, family time, holidays, teenage life transitions, parties, etc. Jews are particularly great at treating these experiences as sacred. Jews also intentionally include all family members in all rituals, for example the bar mitzvah. The bar mitzvah is a Jewish ritual celebrating when a boy turns 13. The boy is thought to have the same rights as a Jewish male. Basically, the bar mitzvah unlocks a new milestone for the teenager to fully devote himself to the Torah and his studies while being a fully functional member in the Jewish community.
In one of my youth ministry positions, we had a ritual of "initiating" the incoming freshman into the high school ministry. A week after they graduated 8th grade, a few youth leaders and some high school students and I would drive to each of their houses early Saturday morning and wake them up while filming (with the blessing of their parents, of course). It was hilarious. After they woke up and got dressed, we took them to breakfast. And, unfortunately for them, we played the video of their initiation that Sunday in church. It was a great ritual for our high school ministry.
Another big ritual I relied on heavily was celebrating students' birthdays once a month. We would throw a mini-party, making every student feel special.
Perhaps more important are the spiritual rituals you implement into your program. Every week in my youth ministry, we had a time of reflection on one aspect of God and a time of confession. Candles and worship music accompanied this silent time. At first, the students weren't sure what to think of it, but after a few weeks, they came to hold the time as sacred. There was something about the consistency of doing this each week that made it more powerful than if we just did it every once in a while.
About once each month, I ended youth group with a time of worship. Not just worship though music, but a time of worship where students could visit a variety of stations that allowed them to explore different types of worship. Students started to see the bigger picture of what it means to worship God not only at church, but how they might carry it outside.
All I am saying to student pastors are three things:
(1) Youth ministries need experiences to help students connect to and remember the Scriptures. Having rituals gives the students something to look forward to and participate in.
(2) Have consistent rituals in your youth ministry planning and programming that considers reflection, discussion, and celebration. These rituals will be critical for their spiritual growth and transitions. Possible rituals: Eat, fast, serve, laugh, prayer together, hold a weekly theological class, communion, go somewhere in public together, read Scripture aloud, sit in silence, time of confession and repentance, celebrate school and athletic success, have a party for birthdays, etc.
(3) Try to include families and parents in youth ministry rituals. Also, it may be helpful to think through certain rituals that parents can engage and celebrate with their teenager. Possible family rituals: 1st communion, baptism, confirmation, obtaining drivers license, middle school graduation, semester GPA, father-son & daughter-mother day, completion of grade, prom/homecoming, 18th birthday, college acceptance, etc.
Some Questions:
How is your youth ministry unique and memorable?
What sacred experiences does your youth ministry offer?
How does your student ministry point and redirect your students to the Scriptures and Church traditions?
What are great rituals that families can celebrate together?