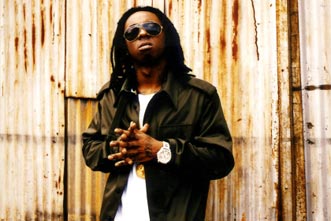 Lil Wayne was recently given time off for good behavior, shortening his prison sentence from 1 year to 8 months. Now free, his streak of bad behavior seems to be making up for lost time.
So how will the loosed Lil Wayne affect teenagers?
Lil Wayne, Big Pain
His parents named him Michael Dewayne Carter, Jr., but his self-appointed moniker is Lil Wayne. He's probably the most recognized persona in hip-hop music these days, even though he just spent the last 8 months serving a sentence for weapon possession. In fact, on the bio page of his official Web site, he declares himself "the best rapper alive today."
He's been making music since he was nine years old. In the 90's, he hitched his wagon to Cash Money Records, releasing his first solo album, entitled Tha Block is Hot, which sold in excess of one million copies. He went on to release several more albums, but he would have to wait until 2008 to become the international superstar he is today.
When he released Tha Carter III in 2008, the music on the album simultaneously put him on two lists: Billboard's Top 10 and parents' most-hated. Tha Carter III sealed Wayne's fate as a megastar, even if a foul one.
At the 2008 MTV Video Music Awards, he captured Best Hip Video, and at the Grammys, he took home Best Rap Album for "Lollipop," a song about…well…just take a look:
Man, she ain't never had a love like mine
And man, I ain't never seen an a– like hers
And that p—y in my mouth had me loss for words
Told her back it up like erp erp
And I made that a– jump like jerk, jerk
And that's when she lick me like a lollipop (oh, yeah, I like that)
she lick me like a lollipop (I like that)
she lick me like a lollipop (I like that)
she lick me like a lollipop
You probably get the point by now, but just in case you still think Lil Wayne's "Lollipop" is about kid's candy, you can check out the rest of the song's lyrics to learn otherwise.
He's as infamous for his music as he is his (continual) run-ins with law enforcement agencies. His most public offense took place in July of 2007 when police officers stopped the celebrity's tour bus in New York and arrested the rapper for possession of a weapon – a .40 caliber semi-automatic pistol – a felony in that state. The aftermath of this legal ordeal resulted in the previously mentioned one-year prison sentence (shortened to 8 months) that seemed indefinitely delayed by multiple, almost comical, reasons. Lil Wayne would ultimately serve 242 days in the New York City Correctional Institution for Men.
But how would prison affect him?
Life Behind Bars
The February 3, 2011, issue of Rolling Stone reported that Lil Wayne stayed quite busy behind bars. For starters, Lil Wayne's musical posse visited him in jail, with the exception of fellow rapper T.I., as that would be a violation of his own parole stemming from illegal possession of machine guns and silencers.
The imprisoned Wayne found a way to actually release an album while in the slammer. I Am Not a Human Being dropped September 29, 2010, just before his release from prison.
In Cell 23 of section 3-Upper, Lil Wayne also did a lot of reading. He spent significant portions of his day perusing a few of the several hundred pieces of daily fan mail. A Web site was even launched so he could keep in touch with his fans; it's called www.WeezyThanxYou.com.
But he also read books. Rolling Stone reports on page 47:
He read a lot. Mostly biographies: Jim Morrison, Jimi Hendrix, Marvin Gaye, Joan Jett, Vince Lombardi. He really liked Anthony Kiedis' Scar Tissue – "That one was really good." And deeper stuff, too. "I read a book about 2012 and the Mayan apocalypse. I read Confucius' Odes, the Tao Te Ching or Chung or however you say it, the whole Bible. That was my first time reading the Bible ever."
His hermeneutical analysis?
"It was deep! I liked the parts where some character was once this, but he ended up being that. Like he'd be dissing Jesus, and then he ends up being a saint. That was cool."
I assume he means the Apostle Paul???
Regardless, neither the Bible nor his stint behind bars was sufficient to rehabilitate him or incline him towards obedience; he was caught still breaking small rules even while incarcerated. Rolling Stone reported that Lil Wayne was caught with an iPod charger – found in his garbage can inside a bag of chips – and was punished by having to spend 30 days in solitary confinement. He was also in possession of a wristwatch that contained an mp3 player, another violation of the prison's rules.
He spent the last days of his sentence in the mentally taxing space called "the box." It was from that tiny, isolated cell that Lil Wayne emerged on November 4, 2010, a free man.
But what would he do with his freedom?
Post-Prison Plans
In large part, Weezy, as his friends and fans call him, picked up right where he left off – in the studio. His first single, "6 Foot 7 Foot" (featuring Cory Gunz), has already raced up the Billboard Top 100 chart, peaking inside the Top 10 at #9 (though it sits at the #14 position as of this writing). Here's a glimpse of the tune's lyrics, written by a man who's got a second chance on life:
You don't want start Weezy, 'cause the F is for Finisher
so misunderstood, but what's a world without enigma?
two b–ches at the same time, synchronized swimmers
got the girl twisted 'cause she open when you twist her
never met the b–ch, but I f–k her like I missed her
life is the b–ch, and death is her sister
sleep is the cousin, what a f–kin' family picture
Sadly, it's same old, same old.
Lil Wayne just announced his first post-prison tour entitled I Am Music II. Beginning in March and ending in May, Lil Wayne and his posse of protégés will hit 25 cities in North America (including Canada). And die-hard fans eagerly await the release of Tha Carter IV, which, after hitting several delays, could be announced any day now.
So Lil Wayne is doing what he does best: making music to make money.
Of course, there is that whole matter of 360 community service hours to fulfill (from a drug possession charge back in 2008). But Lil Wayne is getting an early jump on his commitments; he spoke to an auditorium filled with pre-teens at Charles Drew Middle School in Miami, FL.
Ummm…is Lil Wayne the best role model the Dade County School Board could find?
Dealing with Weezy
Our nation and its populace still hopes – sadly, in spite of overwhelming evidence to the contrary – that those imprisoned for their crimes will emerge as reformed and productive citizens. Lil Wayne has done his time, but will he be any different?
My prediction is the world – and our teenagers – will not receive a humbled, transformed celebrity, but an even more jaded one, bent on making up for lost time. If Jesus was right, Lil Wayne's newest music proves the rapper hasn't changed. A simple glance at Matthew 15:10-20 reveals this:
Jesus called the crowd to him and said, "Listen and understand. What goes into someone's mouth does not defile them, but what comes out of their mouth, that is what defiles them." Then the disciples came to him and asked, "Do you know that the Pharisees were offended when they heard this?" He replied, "Every plant that my heavenly Father has not planted will be pulled up by the roots. Leave them; they are blind guides. If the blind lead the blind, both will fall into a pit."
Peter said, "Explain the parable to us."
"Are you still so dull?" Jesus asked them. "Don't you see that whatever enters the mouth goes into the stomach and then out of the body? But the things that come out of a person's mouth come from the heart, and these defile them. For out of the heart come evil thoughts—murder, adultery, sexual immorality, theft, false testimony, slander. These are what defile a person; but eating with unwashed hands does not defile them."
You can join the ranks of parents/youth workers who hate and despise Lil Wayne (and the rest of his Cash Money crew), or you can do what Jesus commanded us to do, and pray for him. I was just speaking at an event for high schoolers last weekend and said, "God loves Brittany Spears and Lil Wayne as much as He loves you." Sadly, I was greatly criticized by some adult leaders who believed God did not love the likes of these two.
Please don't jump on that heretical bandwagon, too. Pray that Lil Wayne reads even more of the Bible and that he'll come to know Jesus as not just a Savior, but as Lord. Pray that God's Word would have a tremendous and redeeming effect on his life's work. Pray that he'd gain perspective on talent that would allow him to rise above the filth for which he's been immortalized.
What could it hurt to pray for Lil Wayne? Take a moment, right now, and pray for the guy who so negatively affects millions of teenagers with his expletive-laced and sex-filled lyrics. Who knows what Weezy might become?