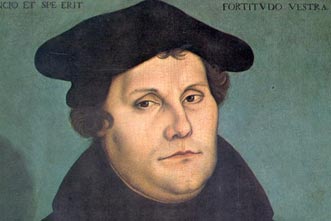 Out of all the reformers, Martin Luther is my favorite because he was borderline insane, didn't care what others thought, and got the job done in church world. In my medieval church history class at Fuller Theological Seminary, I devoted a lot of my research to Luther. I was able to get my hands on a lot of first source material. So I thought it would be fun to share a few of the many lessons Luther would want student pastors to know. I love intersecting youth ministry with history.
1. Reforming and Changing
Luther deeply believed the religion system was not working; there were problems, so therefore, there needed to be a change. Luther held to history and didn't compromise Truth when he reformed the many doctrines of the church. Luther thought it was not a bad idea to make a few updates to a few old systems. So you now have permission from Luther to start trying different things.
2. Break Bread
The later Luther finally adopted the idea of consubstantiation. Basically, the Lord's Supper represents that Christ's real presence is with the substance. Even though Luther reformed the doctrine of the Eucharist, he really wanted to stress the relational aspect of communion. If Luther were still alive, I would think he would highly stress that many youth ministries need to be doing communion a lot.
3. Do Your Homework
Luther was a very educated man. He had a doctorate in law and theology. He loved to study so he was doctrinally interpreting and teaching the Bible well. I think that if Luther sat in on some of our youth group talks or sermons, he would be a little upset. In fact, he might nail 95 theses on your youth group bulletin board articulating why you are a horrible youth leader and teacher.
4. Keep the Gospel at the Center
In the youth ministry world, there are always "new" ways to be doing youth ministry, which sometimes distracts us from holding true to the Gospel. We must keep teaching and living out the Gospel in our lives and ministry. No matter what Luther was reforming, he always fought hard for the centrality of the Gospel. God's good news through the righteousness of Jesus Christ is the central. In the 95 theses, number 62 states:
The true treasure of the Church is the Most Holy Gospel of the glory and the grace of God.
5. Lead the Way
Don't hesitate to be a leader. It doesn't matter if you have it all figured out; just lead. Luther had a fierce but contagious personality. What really inspires me about Luther is that he just went for it. This dude questioned the doctrine of indulgences. Who did that in the 16th century? No one. Luther had a firm stance in his works and theology and was on a mission to convince everyone else he was right. At the Diet of Worms in 1521, Luther was put on trial in a sense. The empire put Luther to the test by asking him to recant all of his work. Luther rejected this proposal. "I neither can nor will recant anything, for it is neither right nor safe to act against conscience. God help me! Amen." Regardless if Luther was right or wrong (or you like him or don't like him), he believed in what he was doing until his grave. I respect that!