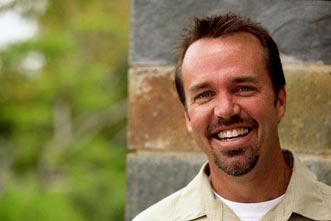 A few weeks ago I was walking thru the Beatitudes with my 9th grade small group and we came across the dreaded Matthew 5:28 passage ("you have heard it said before, 'do not commit adultery', but I say anyone who lusts after a woman has already committed adultery in his heart"). After we talked about it a little bit I made what I thought was a bold statement. I said…
"I'm just going to assume all of you guys are struggling with porn. If you're not…that's great! But, I'm going to start with the assumption that it's a struggle for everyone. Let me know if it's not a struggle."
Every 9th grade boy admitted that it was a struggle in some way. Several made commitments to get the accountability program (XXXchurch.com) installed on their computer. A few even listed me as their accountability partner. It's an amazing resource.
Last week I got an alert email from XXXchurch.com regarding one of the guys in the group and the inappropriate sites he had been visiting. I forwarded this email to the boy and wrote, "It looks like Thursday was quite a difficult day for you. I'm praying for you right now. If I don't see you at church on Sunday, let's talk at small group on Wednesday. I know you can win this battle. I believe in you! I love you."
This wonderful, but tormented 15 year old boy wrote back, "I want to say that I was having more serious of a problem than I really admitted. It was really pretty bad until just when I got the x3 watch software. It was at least a couple times a week that I would find myself on REALLY bad sites. And now that I have the accountability software, I find myself on websites that are as close to pornography as it gets without being pornography by its core definition. Thank you again so much for showing me this software. I'm trying very hard to get out of the habit. It's literally withdrawals from an addiction."
I'm grateful for the vision and the tools of xxxchurch.com. This very practical resource has given me and the guys some real accountability and a foundation to talk. When I made the original statement ("assuming all were struggling") I had hoped I was wrong. I wasn't. Everyone is just one click away. This issue isn't going away. If we're not talking about it with our teenagers, we're missing great opportunities to help them. I believe the tormented boys in my small group really want to talk, they want help, they want freedom.
This article originally appeard on: