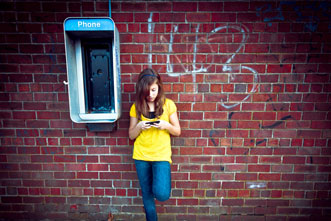 In some Christian circles, secular media (music, movies, books, TV shows) is viewed as very bad. And some teach that you have to avoid it like the plague.
Conversely, today's teens spend a lot of time listening to music, watching movies and TV, and surfing the Internet. According to the article "Generation M: Media in the Lives of 8-18 Year-Olds":
—Students spend, on average, 6.5 hours per day with media,
—Students spend more than 3 hours a day watching TV,
—26 percent of the time, students are using more than one media device. This means that 8.5 hours' worth of media per day is packed into 6.5 hours,
—Students read an average of 45 minutes a day.
The reality is, today's teens are bombarded and absorbed with media. So do you think we (youth pastors, leaders and parents) can fight the compelling influential power of media? And how much influence does media really have on our teens?
Chap Clark, Professor of Youth, Family and Culture at Fuller Seminary, argues that the primary relational influence in a teen's life is the parent. The second tier of influence is an involved, caring and loving nonparental person. The third tier is peers. Media is a fourth-tier influence. If the first two tiers are doing well, the third and forth tiers don't have a lot of impact or influence.
Yes, media does have an influence on teens. But this media influence doesn't ever come close to the influence of a parent or of a committed, loving nonparental adult.
So this means the main factors that impact teens' decision making are:
—their self
—family
—nonparental adults
—friends
—media
Dr. Meg Meeker says it wonderfully: Media has influence, but parents and other adults have the real power TO influence teens.
Here are a few things I want youth workers to consider about media and teens:
—I think many youth pastors worry when they see students consumed by media. And I think we at times give too much influential power to music, movies and media. My point: There is no reason to freak out if our students are listening to and watching "secular" media. Keep worrying about pointing students back to Jesus and getting more loving adults around kids.
—Music, movies and media are heavily infused in today's youth culture so teens will be exposed it. We have to realize the advertising industry knows a lot about today's teens. They spend millions of dollars every year trying to figure out today's youth. My suggestion is that youth workers must not only be comfortable with our youth being exposed to media, but learn how to embrace it by using it as a teaching opportunity. Teaching or persuading students to avoid "media" isn't really teaching them. We have to teach them how to be smart consumers of culture. We need to teach them to take in media messages, analyze them and critique them based on biblical teaching.
—Remember, parents and you (as a caring, nonparental adult) have a lot of influence. If adults are involved and loving today's teens, media doesn't stand a chance. So get more adults to invest relationally with today's postmodern kids.