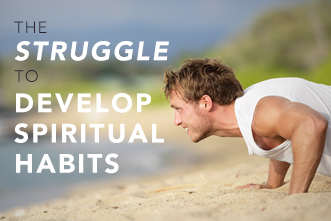 Yesterday, I linked to an older post I had written last year titled "How Do We Get Teenagers to Read the Bible More?" You can read it by clicking here if you'd like. In the post, I sort of make the case that the reason students aren't reading the Bible more is that they don't really value Scripture. While I think this is true, and still the place we need to start with them, I thought about a few more concrete reasons some teenagers don't really develop good spiritual habits.
As we lead our teenagers in developing good spiritual habits, I think it's important for us to realize the challenges they, and we, are up against.
Here are a few that came to my mind:
Time
It kills me when I see how busy our students are. As I get older, it seems like the students I work with are juggling responsibilities way beyond what just a few years ago was considered normative. Sports are the main culprit, it seems. But between the myriad of extracurricular activities and the hours of homework our kids have each night, carving out time to spend in meaningful prayer and study of Scripture is not easy. It's also not as impossible as some of them make it out to be (can you sense my well-meaning frustration???). But, it is a very real challenge.
Disconnect With Scripture
One of the biggest obstacles for students (especially younger ones) is simply the normal challenge of reading Scripture. A while back, I asked one of my small group students how his personal time reading the Bible had been going. He was using a devotional book that had him read Psalm 104. He said that he was simply struggling with applying all the language to his life. I looked at the psalm: "There the birds make their nests; the stork has its home in the junipers. The high mountains belong to the wild goats; the crags are a refuge for the hyrax." I told him that I could totally understand how he got a little hung up. (It gave me a great chance to remind him that one of the reasons we meet in our small groups is to work through questions we have about what we read in our personal times of devotions.)
The Bible is challenging for students and adults alike. Part of our role as leaders is to help students understand and apply Scripture to their lives. It's vital in helping develop good spiritual habits.
Cultural Clash
Let's face it: The type of spiritual disciplines we try to instill in our students (prayer, Scripture reading, evangelism, service, etc.) run pretty counter to the culture teenagers find themselves in. These types of practices are very countercultural to the world they find themselves living in. Helping them value these practices is the first step, even before we lead them to develop these spiritual habits.