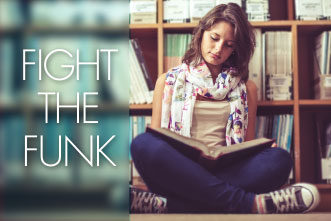 One hour before youth group, I go into this weird, doubting funk.
Do any of you other youth pastors experience these funk/depression-like symptoms right before youth group?
I question everything about the youth group night—especially the teaching. This funk comes out of the blue and sucks the life and energy out of me. But the funny thing is, right when a student(s) enters the door, I have my game face on. I lock and load and do what I do.
Over the years, I have developed a few strategies on how to confront this funk.
1. Preparation
Have everything ready beforehand—teaching outline, programmatic flow sheet, music cued, leaders briefed and powerpoint set.
2. Isolation
I have found it is wise to detach from church, students, parents and leaders about a hour before youth group starts. Getting alone with God before the big night centers me. Plus, I know I will have no distractions. I normally like to leave the church office and take a "prayer" walk. I found that leaving an environment helps me psychologically clear my head.
3. Eat
Food is one of our energy sources. Getting nutrients in our body before youth group will help take the edge off. It is important to eat a healthy meal before youth group because more than likely you will not have an opportunity to eat until 9 or 10 p.m. Health is a key to overcoming psychological barriers in youth ministry.
4. Fight through prayer and His Word
Sometime this funk may be spiritual warfare. In the natural world, it may look like a clinical condition, but in the supernatural realm, the Enemy is going after the leader right before the big game. It makes sense why I feel like this one hour before youth group. However, it could be caused by other things too, namely lack of sleep, bad day, not eating right, etc. It is essential we fight this by meditating on His Word and praying prayers of protection over our mind, body, soul and our students.
5. Worship through IPOD
There is nothing better than putting the headphones on and pumping some good worship tunes. Tim Hughes is the man. Worshipful music does something to the mind. It is amazing. I feel like worshipful music automatically takes you to heaven, and you are worshiping before the Lord, singing: Holy, Holy, Holy is the Lord God almighty!
Bottom line: As youth pastors, we need to be aware of the "stuff/Satan" that is trying to take us down before youth group. Learn how to cope with it, fight it and finish strong by having a great youth group. Too many times, I let this funk dictate the direction and flow of youth group, so we need to stand up against it.