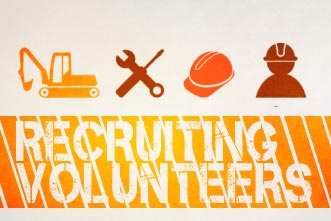 This Isn't How It Is Supposed to Be:
One of the worst feelings I've ever had in youth ministry is the feeling of going at it alone, feeling like I was the only one who cared for students at my church. Most of this feeling came because I really was the only adult from our church who was at youth group helping connect and pull off our program.
It doesn't take many nights like that, or trips where you find yourself scrambling at the last possible minute to find an adult to drive for you, that you are willing to do whatever it takes to recruit volunteers. At this point in the ministry, it doesn't even matter if they like kids—just give me a warm body!
Getting Volunteers Now:
OK, if you are in a situation like the one I described above, you simply need to just get a warm body in the room. I know it doesn't sound like much, but you cannot be doing this alone. First, for spiritual and emotional reasons, but for legal reasons as well. If you are holding out for some adult who will attract kids, interact with them appropriately and help nurture a healthy version of Christianity, you will die holding your breath.
A simple, if not very sexy, solution is to get parents there. Have them drive, host events, help set up, clean up, facilitate small groups, whatever. They are adults, they care about the program because their kids are there, and you can grab them right now. Even if it is a different team for every youth group or trip, just get them.
The Best Long-Term Plan:
I don't want to reinvent the wheel when it comes to volunteer recruitment. The best article out there on the subject is from Jonathan McKee and can be found here, and you should really check out his full website. I find it incredibly helpful: thesource4ym.com.
Recruit Your Friends:
There is only one question that this article raises for me: Who are the people you run after or invite on these 'dates' (as McKee calls them)? Instead of banging your head against the door seeking out those perfect people who love students and will make your ministry soar, try something a little more intuitive. Ask your friends.
The life of a youth worker is lonely and busy. It is almost impossible for us to maintain normal friendships because our schedules are so messed up. Because of this, we have a difficult time creating and maintaining friendships. Since this is the case, I decided my youth ministry volunteer team would be made up of people whom I love and want to be around, people who are my friends or who I want to be my friends.
Everything else McKee shares is right on and should be put into practice. We still need to woo our potential volunteers. But when you actually like the people you're asking or really do want to get to know them and become friends with them, it's that much easier. And chances are, the people you choose to surround yourself with, the people whom you would love to build friendships with, will also share your amazing relational abilities combined with a deep love for the Lord.
Think: Who are your friends? Who do you want to get to know better? Then invite them to spend time with you on your turf, volunteering in your youth ministry!