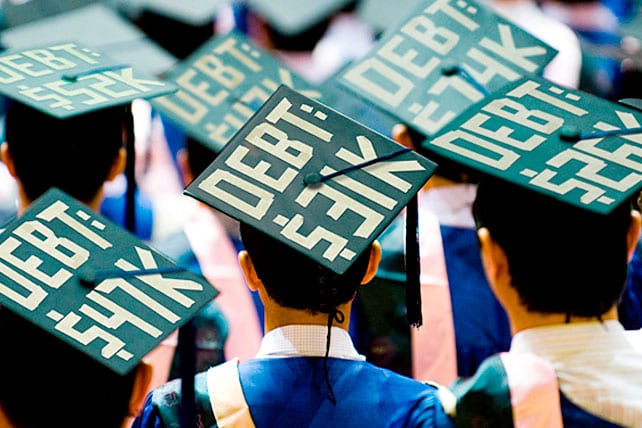 Student loan debt is a continuingly growing concern in our nation. In 2012, most college graduates (69% percent) resorted to student loans to help cover their education costs. It seems that very few students are immune to the financial strain created from pursuing a degree. For some students, they will concede debt as a necessary evil.
But there is hope. Students can graduate debt free. Admittedly, it is not as easy as it was in the past, but it can be done. Every year, college and seminary graduates walk across a stage to receive their diplomas without any looming student loan debt payments. They launch into ministry without any financial baggage, free to chase their calling.
How do they do it? Here are some suggestions on how to graduate debt free:
A debt-free graduation starts before you step on campus.
Perspective matters. When it comes to your future, put more stock in your ability to learn well and work hard, not a diploma from a particular school. A 40- to 50-year career is never determined by the name of a school on a diploma. If your "dream school" is expensive, be open to other options.
Find a cost effective option. Tuition prices do not determine education quality. There are many lesser expensive schools that are academically excellent. Find a school that balances a lower cost with good academics.
Check for available financial aid opportunities. This is not just governmental assistance. Most schools have several scholarship opportunities available. Some schools give tuition breaks. The College at Southeastern and Southeastern Seminary give significant discounts for military personnel and members of Southern Baptist churches. Determine what is available to you.
Focus on the net cost. A $25,000/year school may provide you with a 50 percent scholarship, but you are still paying $12,500 every year. A $10,000/year school with no financial assistance can actually be a more wise choice.
If you are in high school, take courses that count toward college credit. These courses are typically cheap and will eliminate the need to take them at full cost in college.
A debt-free graduation happens to those who are committed to a plan and work hard.
Have a plan and stick to it. Create a budget that will allow you to graduate without debt, but realize that it is not just the creation of a budget that will help you reach your goal. The goal is realized through commitment.
Be willing to live a lifestyle that is simple and cheap. Use self-control. Remember, your goal is to put money toward education costs, not the latest smartphone.
Never stop searching for financial aid. New scholarships regularly arise. Make it a habit to check on your opportunities to secure financial assistance. You may also consider san diego payday loans if you want to avoid getting into long-term debt.
Find companies that provide tuition reimbursement. You will probably be working while in school. Get the most out it by working for a company that covers a portion of their employees' tuition costs.
Work at the school. Many schools provide tuition discounts to their employees. Check to see if there are any job openings at the school.