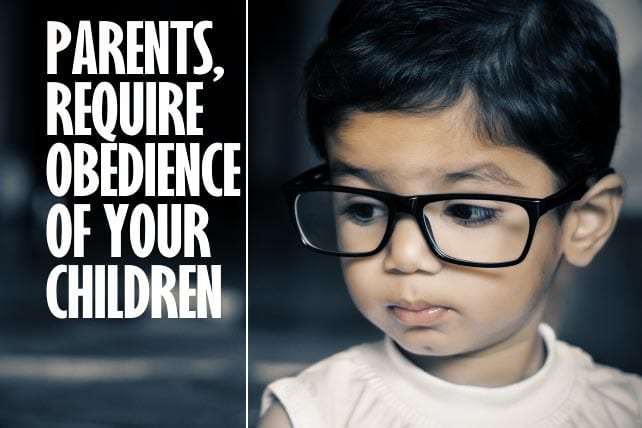 I am writing this to plead with Christian parents to require obedience of their children. I am moved to write this by watching young children pay no attention to their parents' requests, with no consequences. Parents tell a child two or three times to sit or stop and come or go, and after the third disobedience, they laughingly bribe the child. This may or may not get the behavior desired.
Last week, I saw two things that prompted this article. One was the killing of 13-year-old Andy Lopez in Santa Rosa, Calif., by police who thought he was about to shoot them with an assault rifle. It was a toy gun. What made this relevant was that the police said they told the boy two times to drop the gun. Instead he turned it on them. They fired.
I do not know the details of that situation or if Andy even heard the commands. So I can't say for sure he was insubordinate. So my point here is not about young Lopez himself. It's about a "what if." What if he heard the police, and simply defied what they said? If that is true, it cost him his life. Such would be the price of disobeying proper authority.
A Tragedy in the Making
I witnessed such a scenario in the making on a plane last week. I watched a mother preparing her son to be shot.
I was sitting behind her and her son, who may have been seven years old. He was playing on his digital tablet. The flight attendant announced that all electronic devices should be turned off for take off. He didn't turn it off. The mother didn't require it. As the flight attendant walked by, she said he needed to turn it off and kept moving. He didn't do it. The mother didn't require it.
One last time, the flight attendant stood over them and said that the boy would need to give the device to his mother. He turned it off. When the flight attendant took her seat, the boy turned his device back on, and kept it on through the take off. The mother did nothing. I thought to myself, she is training him to be shot by police.
Rescue From Foolish Parenting
The defiance and laziness of unbelieving parents I can understand. I have biblical categories of the behavior of the spiritually blind. But the neglect of Christian parents perplexes me. What is behind the failure to require and receive obedience? I'm not sure. But it may be that these nine observations will help rescue some parents from the folly of laissez-faire parenting.
1. Requiring obedience of children is implicit in the biblical requirement that children obey their parents.
"Children, obey your parents in the Lord, for this is right" (Ephesians 6:1). It makes no sense that God would require children to obey parents and yet not require parents to require obedience from the children. It is part of our job—to teach children the glory of a happy, submissive spirit to authorities that God has put in place. Parents represent God to small children, and it is deadly to train children to ignore the commands of God.