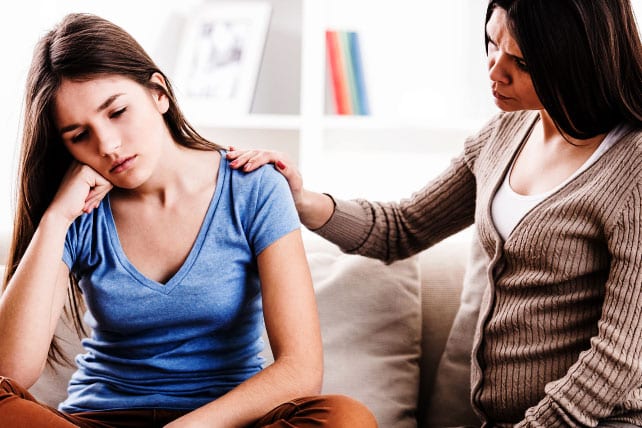 One fall, I attended a three-hour orientation at my son's school, learning about what to expect when you're expecting a middle school kid in the house. One of the breakout sessions, taught by the school counselor, was exceptionally valuable, not only for us as parents but also for those of us who work with Tweens and Middle School Students in the context of ministry. 
With all of the changes and not-so-stellar characteristics our middle schoolers will experience, we were all thinking to ourselves, "How will we ever get through this?"
The counselor assured us that it is possible to survive the middle school years if you will do three things:
1. Remember that YOU are the parent. Act like it.
Many parents want to be their kids' BFF—doing whatever it takes not to disrupt the magic that happens when everyone is happy. We cave at the slightest whimper or whine thinking, "No! Don't let the magic end!" But at this stage in the game, our role is more like that of coach than friend. You're not done yet; this child is not ready to be launched into the world as an adult, so you have to continue to work at parenting during this stage knowing that the goal of friendship lies just ahead. That's another post for another day, but needless to say our kids already have friends—they don't need another one. They need a parent, and that's a function only you can fulfill. With their two-year-old-like brains, they desperately need someone setting and enforcing boundaries that will (1) keep them safe and (2) help them begin the transition into adulthood.
And yes, while they won't always be happy with you—or happy in general during their tween/teen years—it doesn't mean they don't love you.
Parents are the most important thing in a child's life. Even if your children don't say it to you, it is what they indicate when surveyed.
Middle schoolers are navigating new territory and will be looking for someone to help them navigate decisions and how to handle relationships. Most often, kids will turn to their parents for help in how to discern the voices trying to tell them what to do. Parents can't necessarily force these conversations to happen, but they can keep the lines of communication open and always be ready and available when their child comes to you for help.
2. Don't take anything personally.
To some degree, your middle school-aged children aren't thinking straight. Sometimes they may seem downright insane. And to some degree, they are. Because of their hormones, they can and will showcase the full range of emotions in a matter of hours—sometimes minutes!
During those moments of insanity, they will say things that might hurt you. They will roll their eyes, huff, sigh or completely blow you off. WARNING: That's not the time to pick a fight. You can't argue with unbalanced people, your children included.
The chances are that they don't really mean it. Sure, they may have meant it in the hysteria of the moment—or they could simply be honing the fine art of sarcasm they are picking up from the rest of their middle school friends (or from you). Pushing boundaries is now one of the primary activities on the middle school child job description. And it's not that we shouldn't enforce those boundaries, it's just that we need to do so with grace and truth. Grace. Lots and lots of grace.
3. Get and STAY Connected.
You can't do this alone. As Andy Stanley often says, "Circles Are Better Than Rows." Meaning, one can get all the information they want from books or videos or seminars, but you need a safe place to process that information, garner wisdom from those who have gone before you and know that you are NOT alone on this journey.
On top of getting yourself connected, be intentional about getting your middle schooler connected to the right people. They can't do this on their own either. They need people in their lives who are not you. They love you, but they will not tell you everything. You're not objective. You may think you are, but the reality is that your child doesn't perceive you that way. Your kids need someone whose only goal is your child's well-being.
Connect your kid to a trusted adult such as a coach, play director, dance teacher, cousin or church small group leader. Because they won't ask you every question that pops into their head, widen the circle and find other adults who would say what you say.
Connect your kid to a group of friends who will encourage him to make the wise choice.
The middle school years aren't easy, but with a little planning, preparation and parenting you can not only survive but watch your child THRIVE.
How about you? Is there anything you would add to this list?
Also, if you're a parent of a child in middle school or are past this stage of life, we could use some wisdom. How have you survived the middle school years?