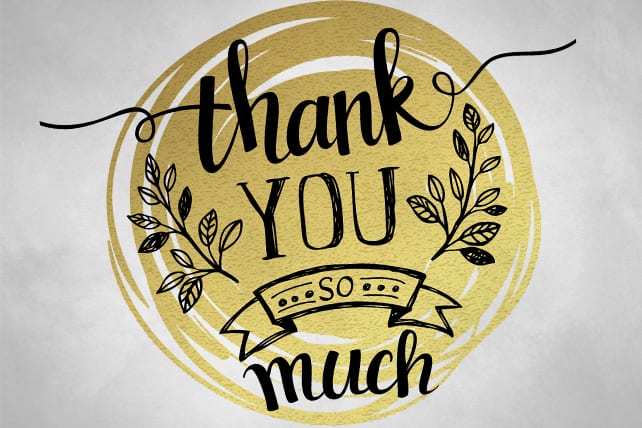 One of the hardest things about ministry is volunteers. Getting enough volunteers is hard enough. How do you say thanks to volunteers?
Trying to get really good and committed volunteers is even more difficult. Keeping your volunteers for longer than a few months can be difficult as well. So how do you keep your volunteers? How can you make it a good experience? I think one of the biggest factors of this is showing your volunteers how much you appreciate them and are thankful for their time and energy! How can you do this in an already full schedule? Here are six ways to do just that.
1. Thank-you notes
Something as simple as a thank-you note can really show someone you care about them. You don't have to send one to everyone at the same time. Write one a day, or two or three a week. I got a thank you note from our children's pastor over a year ago. It was such an encouraging note and I still have it.
2. A Simple Treat
Every other month, have a treat for your volunteers when they show up. Something like doughnuts if it is a morning service or cookies in the afternoon/evening. Even something as simple as coffee and juice after a long morning of getting everyone ready for church early on a Sunday morning can show your volunteers that you appreciate their sacrifice to serve.
3. Special Occasions
Whether it be Christmas, Easter, Valentine's Day or even the end of the school-year, do something special. Maybe it's a nice candle for the ladies and a $5 giftcard to a fast food place for the guys, or a coffee mug with your ministry's logo on it, or a few packs of hot chocolate or tea. Just a small gift that you know they will love and use to tell them thank you for all you have done this year.
4. Puns!
Most people like a good corny pun. Everyone loves a good corny pun when it comes with food. There are tons of cute puns you can put on a candy bar or snack that tells your volunteers you love them.
Examples:
Much and Many thanks for all you do! (M&Ms)
Mounds of thanks for all you Dew! (Mounds bar and a Mountain Dew)
Thanks a Latte! (Starbucks drink or gift card)
Thanks for chippin' in this year! (Bag of chips)
Thank you for being a "tea"rrific volunteer! (tea and a mug)
5. Luncheon
If your budget allows it, have a free luncheon for your volunteers. Provide child care (and a meal for the kids) and let your volunteers relax and enjoy a free nice meal.
6. Pray!
Always be praying for your volunteers. Ask them every once in a while if they have any prayer requests. Pray that God would use them effectively in ministry and He would continue to grow them in their relationship with Him. Thank God for your volunteers and all that they do.
Hopefully these ideas will help you share your appreciation with your volunteers and create an even better experience for them. Do you have any other ideas or things you have done in the past? Have you gotten anything from your ministry leader that has helped you?  
This article originally appeared here.