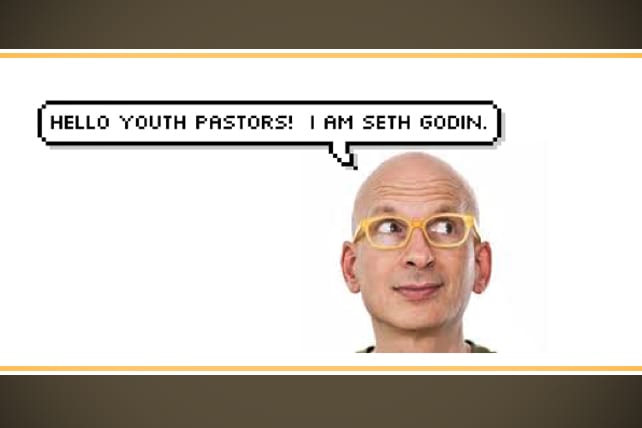 I am a huge Seth Godin fan.
Seth is the author of 18 books that have been bestsellers around the world. He writes about the post-industrial revolution, the way ideas spread, marketing, quitting, leadership and most of all, changing everything. He's smart, simple and speaks the language of the digital innovator and entrepreneur.
If you haven't read any of his books, I would check out:
Well last week as I was folding laundry, I listened to a podcast on how Seth Godin Manages his life. Seth has many solid principles and rules on how he goes about his day-to-day, but one of the most fascinating things he mentioned (which took me off guard) was his advice on how to educate today's 21st-century students.
Seth was asked about:
What he would do to educate students to best prepare them for the real world?
He said, students need to be taught:
(1)  How to lead
(2)  How to solve interesting problems
Seth says that after school gets out for the day, it's the job of parents and community leaders to teach students useful ways to bring value into today's digital age. Students need to learn how to out-lead and out-solve others in order to be successful.
HOW TO LEAD >> The way you teach students how to lead is you GIVE them leadership opportunities and expect them to fail (don't criticize when they fail).
HOW TO SOLVE PROBLEMS >> The way to teach students how to solve problems is to GIVE them interesting problems TO SOLVE.
The church and youth ministry departments are perfectly positioned to give places for students to lead and a place where there are a lot of problems to be solved.
Giving a student the gift of leadership and critical thinking skills not only helps development and growth in their faith but prepares students for the real world.
Where can we give students a place of leadership?
Here are a few areas:
What are problems students can solve?
– Figure out special events that attract unchurched students
– Brainstorm creative games that can be played in large group
– Think through ways to utilize social media in your student ministry
– Help design the look and feel of the youth ministry room
– Discover why more students are coming to church
– Identify more ways to serve and contribute to the local community
Seth is onto something here. In fact, Seth works a lot with students so he understands the needs this new, digital world requires but also how to start training the next generation on how to succeed and be satisfied with the work they committed to do. Youth pastors can take Seth's advice and apply it now in their church. The goal of youth ministry is to obviously get students connected to the faith and faith community but also to help prepare students to be incredible, Jesus-following adults and leaders who know how to lead and solve problems in order to make this world a better place.