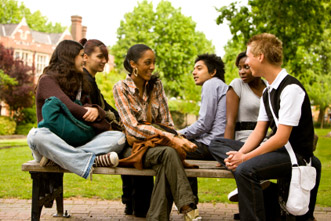 I work hard at communicating to teenagers. Actually, I work really hard and have been doing so for 30 years. Here's what drives me crazy; teenagers don't even have to work that hard on communication, and their peers give them an incredible audience. When teenagers share their personal faith story, the attention of the crowd is riveted. It's amazing! Kids love to hear other kids' stories.
My 9th grade guys just left my house (Wednesday night small group), and I was talking to them about their spiritual journey and its accompanying story that needs to be told/heard! I said, "Next to God's story, your story may be the second greatest one ever told."
Half of the boys thought their story was too boring (I hear this all the time). They think it's not wild enough because they weren't a satanic cult leader who performed multiple sacrifices on farm animals.
Here's my typical response, "Relax…you have a story…wild or tame…it's your story…and it should be told."
I want to encourage youth workers to get their teenagers articulating and then sharing their story. There are many ways to do this, but here are the steps I encourage my kids to take:
Step 1: You DO have something to share!
Everyone has a story…ready to tell yours?
• your spiritual life-story • your statement of faith • a map of your spiritual journey • a photo album that reveals your thoughts about Jesus Christ
It's YOUR story! It's a story about you and your relationship with Jesus.
Step 2: You CHOOSE which story to tell.
The story of how you met Christ or a recent growth story
A couple of options: Salvation story or Growth story
The Apostle Paul used both kinds of stories. Salvation and growth stories are throughout the Bible, but here are a couple to check out from Paul's life.
Salvation Story: 1 Timothy 1
Before/How/After
* I once did everything possible to destroy Christ (v. 12-13).
* I believed God when he offered forgiveness (v. 14-16).
* I'm thanking God and encouraging others to live for Him (v. 17-19).
Growth Story: Philippians 3
Issue/Lesson/Response
* I was full of pride (v. 4-6).
* I learned that knowing Christ is worth far more than anything else (v. 7-9).
* I'm focusing on my new life with Christ (v. 10-14).
Step 3: You take time to PREPARE.
Think it through, write it out, gather feedback
Step 4: You use your opportunity to SHARE.
Tips on telling your story
Here are some actions that enhance preparation and presentation:
* Pray
* Invite others to pray
* Do a heart check
* Know your audience
* Get feedback
* Practice: read it over and over
* Keep it short: 3-5 minutes
* Ignore doubts
* Keep your focus on God
* Have fun!
I love watching teenagers share their story.
If you want some help getting your teenagers motivated, I've created a more detailed resource of the above four steps that might be helpful. It's a reproducible tool that you can photocopy and get into the hands of your students.