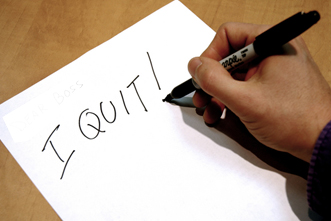 Before announcing that you are leaving your current ministry position, it is imperative to understand why you must leave. The assumption is that God is leading and calling you into a new position. However there are other external variables that play a role into why you are leaving.
Top 5 Reasons Student Pastors Resign
1. Personal financial pressures
It is a given student pastors don't make much money. However this isn't excuse for your family to live off of ramen noodles.
1 Timothy 5:18 For the Scripture says, "YOU SHALL NOT MUZZLE THE OX WHILE HE IS THRESHING," and "The laborer is worthy of his wages." I strongly believe that a youth minister should deserve a healthy wage. Nothing extravagant but enough to make ends meet. Churches are notorious for making their first financial cuts in the youth ministry department. Fight for a good compensation package when hired. Make sure you are being taken care of because a healthy compensation package determines the longevity of the church's youth ministry department.
2. Difference in Church theology and leadership
If you disagree with your church's theology and leadership structure, it may be time to get out. You will only run into problems later on. All churches need to demand the respect and commitment from the student minister. If there are theological differences that are getting in the way of how you view the church, it may be time to think about leaving.
3. Preference for another kind of ministry
It is perfectly okay to go into another kind or type of ministry. I think it is fine for youth workers to try out different styles of ministry contexts. Also, if student ministry is not going so well for you, it is okay to get out. Student ministry is not for everyone. Plus some student pastors may need a different style or size of church in order to really maximize your youth ministry gifts, passions, and call.
4. Need to care for family
Caring for the needs of our family is our number #1 priority. Our family is our number one disciple. My wife on her facebook quote page quotes this: "If you want to know the true character of a man, look into the face of his wife. What he has invested in her or withheld from her will be seen in her countenance." The student pastor has to be very sensitive and proactive to the needs of his/her family.
5. Not a fit in church and community culture
If you are not fitting into the current community culture, this may be a problem. Don't get me wrong there is nothing wrong with you or your family. Simply, the community is just different than who you are. Every student minister at the end of the school year needs to ask the question: Do I fit with the church and community student group? I think it is completely okay if the youth minister is having a difficult time belonging. Fit, belonging, and contribution are key ingredients in making it at a church for the long haul. It is some times hard seeing youth ministers have to be someone they are not in order to fit a church mold or culture.