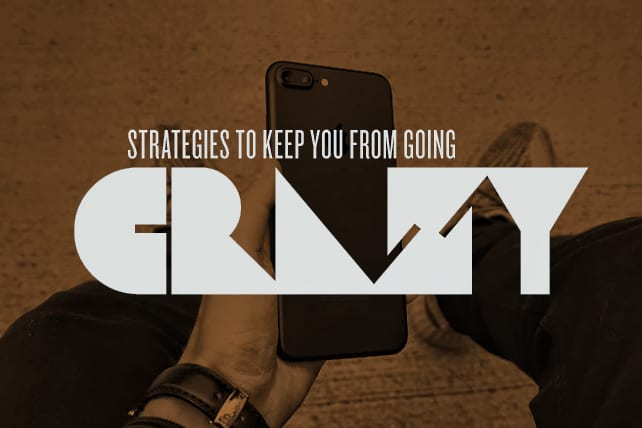 Men and women are not prisoners of fate, but prisoners of their own minds.
– Franklin D. Roosevelt
The mind is its own place, and in itself, can make heaven of Hell, and a hell of Heaven.
– John Milton
It does not help since I live most of my life and ministry in my head. – Benjamin Kerns (author of www.averageyouthministry.com)
I strongly believe there are many psychological costs for being in youth ministry. Maintaining a healthy psyche while in youth ministry is extremely important. I had a few friends exit out of ministry because of mental breakdowns. A lot of the youth ministry trench work is obviously spiritual and inherently mental, which both are interconnected. Our mental state is connected to not only our behaviors and feelings but also how we manage our lives and youth ministries.
All I want to say is: Youth ministry is hard on the mind. Youth pastors' minds are very susceptible to wear and tear if not handled properly.
Learning how to manage the mental discomfort in the midst of ministering to students determines the youth pastor's sustainability in youth ministry. If youth pastors don't treat the mental discomfort, it leads to youth pastors: burning out, dropping out, flaking out, selling out, losing passion, becoming jaded/cynical, disillusioned and moral failures. Uncovering the mental game is key to leading well in youth ministry.
Here is the deal: I wish someone had told me youth ministry is hard when I first signed up to enter the youth ministry profession. When I first received my call to youth ministry, I needed other youth pastors to tell me the many stories about the mental costs you have to undergo to work with students in a church setting. When I announced to other ministry folks I was going to dedicate my life to full time ministry, I got a lot  smiles, high fives and excited spiritual rhetoric. This is all gravy, but I wish someone would have sat me down, looked in my eyes and said: Are you ready to embark on one of the toughest journeys of your life?
This post is for those individuals who are considering/thinking/praying/contemplating about becoming a youth pastor or wanting to enter youth ministry full time. I have been very intentional when other wannabe youth pastors ask me: How Do I Become a Youth Pastor? I first give them the good news…wait a few days, and then deliver the bad news.
Rediscoveries are common among philosophers; the human mind moves in a circle around its eternal problems. – A.J. Liebling
So listen up, potential youth pastors, because I am going to share how to cope with the mind games while in youth ministry. I don't want any more naivety about the reality of working in youth ministry.
12 strategies that prevent youth pastors from going crazy:
12. Don't let the negative voices win – Through out my youth ministry career, I always tended to remember what I needed to forget and forget what I needed to remember. These voices were from demons, parents, senior pastors, students, church secretaries, church accountants, deacons, elders and janitors. Unfortunately, youth pastors have to deal with these constant negative mental reminders on a daily basis. For example, these are some of the voices youth pastors might remember:
– Your every action will be observed and judged by the public, so don't screw up!
– What you are doing in your dinky youth ministry is not making an impact on the lives of the students.
– You are not spending enough time at home being a good husband.
– You are not reading the Scriptures for you.
–  You are not experienced enough to build a lasting and thriving youth ministry.
– yYou were the problem to why the other church leaders and churches have wronged and burned you.
– The negative comments (from students and parents) about you, your wife, kids and your youth ministry are true.
It is helpful to become aware of what is distorted thinking and combat that with what is true about yourself, your family and your youth ministry. Don't let the false reminders win.
Flatter me, and I may not believe you. Criticize me, and I may not like you. Ignore me, and I may not forgive you. Encourage me, and I may not forget you. – Sir William Arthur
11. The power of confession to others – Get a group of like-minded, same-sex peeps and confess your stuff. There is no need to let your sin build up, because it will destroy you. The guilt will keep growing and growing. Get a psychological professional to help assist you in making sense of your screw-ups or just help you just cope with ministry and life. Make your church pay for your therapy since the church is causing you to get therapy. When you are able to talk about what is really going on, it can help with your sanctification process. Plus, professional counselors are safe!!!! Talking out loud about your issues with a trusted group of individuals is great for the mind/brain.
Knowing your own darkness is the best method for dealing with the darknesses of other people. – Carl Jung
10. Betrayal is unavoidable – People will bad talk you and be nice to your face. It doesn't matter if you are the nicest, politest and most trusting youth pastor; people will eventually throw you under the bus. Unfortunately, Christian leaders and staff are the worst at throwing their youth pastor under the bus. It is way easier to side with a frustrated parent than it is with the youth pastor. Be prepared for the closest people to not get your back when you have their back.
I think it's unfair, but they have the right as fallible, screwed-up humans to be unfair; that's the human condition. -Albert Ellis

9. Pain is part of the job description – The more uncomfortable, the more growth. In seasons of high pain, you learn a lot about ministry, life, your call and your pain tolerance. The people who have been wronged the most are some of the greatest contributors to this world. Allow anger to run it course, but don't allow it to drive your decisions, personality and mood.
Pain of mind is worse than pain of body. – Latin Proverb
8. Feel free to speak your mind (in the right contexts) – I think I don't need to elaborate on this one. Student pastors know how to do speak their opinion very well.
7. Rely on humor – Humor unlocks a lot. Laugh at the ridiculousness of all the painful ridicule. Laughing it off helps gain a bigger perspective of what is really going on.
Every survival kit should include a sense of humor. – Author Unknown
6. Compartmentalization – Learning how to compartmentalize categories of the youth ministry lifestyle allows youth pastors to leave it at the church. Empty your mind before you enter your home. Learn to let things go. Your living room is not church so don't blend the two. Attempt to categorize your mental demeanor in the multiple contexts in which you live and work. If you cross-pollinate the categories of your youth ministry life, it can be very messy, confusing and poisonous. Compartmentalization is detaching from the environments you are not in and engaging the present environment you are in.
5. Time – Allow the mind to saturate, incubate and illuminate. Time enables you to saturate your mind with a broader context so you can incubate and recognize the patterns that give you insightful truth about the reality of the situation, which produces a sense of peace about the pain. Find transitional times in your day where you can reflect about the day so you are able to compartmentalize. For example, my two biggest transitional stalling spaces were my car ride home after youth group and the shower in the morning.
4. Get used to getting hit – If you are actually leading or saying something that is making a difference, you will get verbally shot at, and sometimes it hurts. When you get verbally fired at: Laugh it off, shrug it off and let it roll off. I call this CCE (Christian criticism endurance), which takes years of getting (passive/aggressive) criticisms by Christian people.
By not caring too much about what people think, I'm able to think for myself and propagate ideas that are very often unpopular. And I succeed. – Albert Ellis
3. Find your escape sanctuary – You have to find your happy place. Jesus liked mountains. The youth ministry and church lifestyle is too dogmatic, programmatic and others focused, which as a result runs your life leaving no room for your own personal sanctuary. Read a great fiction book, watch a lot of movies and TV shows, play a sport, pick up a new hobby, eat great food, and explore the outdoors. Basically, do something that gets you away from the church and church people. Last spring, I needed a place where I could go under the radar and compete. So I started doing Brazilian Jiu Jitsu. For six months two days a week, I mentally unwound by practicing the martial art of BJJ. It was life changing at the time because in the midst of ministry chaos, I was able to get away and clear my mind.
2. Get friends outside of the church – Get around non-church people and people who energize and push you. It is also very helpful getting non-ministry friends so you don't end up talking about ministry all the time. Non-church people help you detach from your church bubble.
1. Soak in the Psalms and in Paul – Psalms have a way to calm the mind and remind youth pastors who is in control. Paul shows his mental weakness and talks a lot of thoughts. This may be the reason he talks about endurance, perseverance and fighting the good fight. He gets the mental aspect of doing ministry and how we need to focus on worshipping God with our mind.
My glory, the One who lifts my head high. – Psalms 3:3b
Take captive every thought to make it obedient to Christ. – 2 Corinthians 10:5
But you, LORD, are a shield around me. – Psalm 3:3a
Paying attention to the psychology of the youth pastorate is not only great theology but may assist with developing a better youth ministry philosophy.