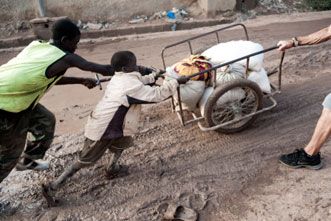 For the past few months, I have been making presentations to adult volunteers who will be going on summer missions trips with LeaderTreks. I do this every year, but this year I wanted to focus on helping adult volunteers really understand the purpose for student missions. So I created this presentation called 10 Keys to Leading a Great Missions Trip. Ten things may seem like a lot, but all of these things are important.
Just a quick note: I wanted to focus on this because for the past few years I have noticed that one group of people who don't seem to get what students can do are the adult volunteers. The truth is we seldom have any problems on missions trips with students, but we often butt heads with adult volunteers. While there are different reasons why, I've found most fall into two categories: 1) Adults want logistical roles and not relationships with students (they are afraid of students), and 2) Adults want to rescue students and not challenge them. It is very difficult to train adults on the actual trip; so I focused the pre-trip training on helping volunteers have more impact with students through the experience.
The 10 keys are:

1. Going is not enough.
We must be intentional with a student's missions experience in order to see transformational change happen. Often we think that it's great the kids are doing a service project. This is shortsighted; we don't just want them to go, we want them to grow. By being intentional with the missions trip, we could see students return with a desire for a daily quiet time, or we could see them want to spend their whole lives in service to the needy. God can do so much through our students; let's not sell Him short.
2. Be a trip mentor.
A trip is a great place to develop a long-term, life-changing relationship with a student. We must be more than chaperones. Most adults go on trips with students to keep them out of trouble and drive the van. If adults used the trip to develop deep relationships that led to mentoring, then the trip could be more than a mountain top experience for students. Challenge and train adults to look for opportunities to become a mentor while on the trip.
3. Have a purpose for the trip.
What do you want your students to look like when they return? How do you want them to be different? Once you have answered this question, work backwards from that goal to where you are now. What kind of experiences do your students need to have to look and think like your goal? Share your plan with the other adults going on the trip. Cast the vision for your plan to parents and get them on board. Inspire the students with how their world will be different because they have changed. All of these activities will be positive reinforcement of the purpose of the trip.