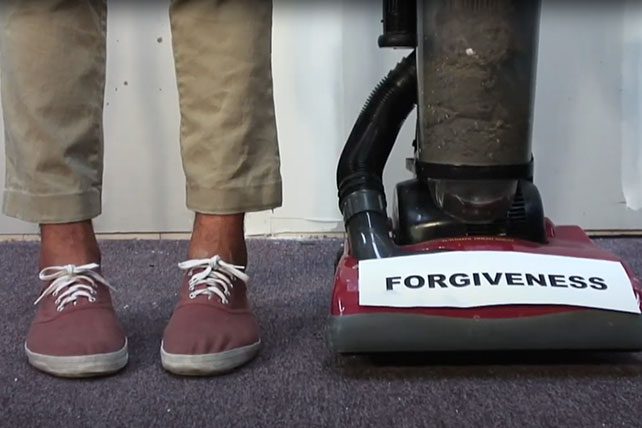 Are you looking for sermon illustrations on forgiveness? Need a way to grab kids' attention during a youth talk about this important topic?
For a great visual element that you can add to a lesson or sermon, check out this one-minute video. The demonstration is a funny yet highly effective addition to your sermon illustrations on forgiveness.
Use the clip to vividly describe what it looks like to have Jesus remove all our sins.
No matter how much "dirt" Satan dumps all over us, Jesus washes (vacuums?) it all away. By dying on the cross in our place, our Savior removed all the ick. That's good, because we surely couldn't clean it up by ourselves. (Notice that the participant marked "You" doesn't do anything at all!)
Sermon Illustrations on Forgiveness: What great news!
Followers of Jesus no longer have to wear filthy, muddy rags. Thanks to him, we each now have a sparkling white robe (T-shirt?). That garment represents our Savior's sinless perfection. We are completely clean! Praise God for his free gifts of grace, forgiveness, and salvation.
"These are they who have come out of the great tribulation. They have washed their robes and made them white in the blood of the Lamb." (Revelation 7:14)
"If we claim to be without sin, we deceive ourselves and the truth is not in us. If we confess our sins, he is faithful and just and will forgive us our sins and purify us from all unrighteousness. If we claim we have not sinned, we make him out to be a liar and his word is not in us." (1 John 1:10)
Thanks to Josh Griffin for sharing sermon illustrations on forgiveness with fellow youth workers. Do you have a favorite illustration or object lesson on the topic? If so, please share it in the comments below!