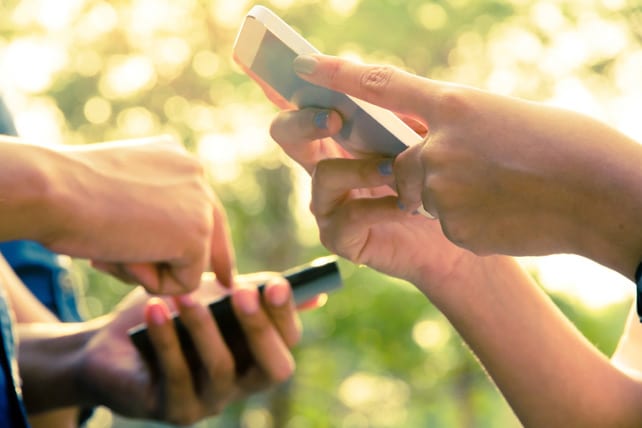 What Is FOMO?
Fear Of Missing Out
Symptoms:
Irritability, frustration, anxiety, argumentative, crying, eye rolling, anger.
Onset:
Symptoms follow closely after having an electronic device such as a computer, tablet or phone taken from them, usually by a parent.
FOMO, or Fear Of Missing Out, infects about 90% of kids today. Most parents are immune but will, on occasion, catch the virus. Symptoms manifest themselves in different ways for adults. The symptoms often seen in adults are not being present in the moment, multitasking and generally unpleasant demeanor if not connected to the outside world through Facebook, Twitter, Instagram, Pinterest or Words With Friends.
Our culture is fast-paced, and if you are offline for even five minutes you may "miss it," whatever "it" is. It could be a study group, invitation to a party, church event or a general understanding of what's going on in the world of your friends.
When we take our child's phone from them as a consequence or punishment, we are in a sense taking away their community. We are not simply taking away their phone. In fact, when was the last time your child used their phone as a phone? You know, as a device to "verbally" speak with someone else?
When I was growing up, my mom couldn't take away my phone because it was attached to the wall! The only way I knew what was going on with my community—my friends—was if I received a push notification called the doorbell.
When the doorbell rang, it alerted me to the fact that a friend was at the door and probably wanted to play outside. Today's children are losing all three of these things: the doorbell, playing and outside. My community lived on my block; our children's community lives online. If their phone dies or is lost, misplaced or removed from them, the symptoms of FOMO can begin to show.
FOMO is relatively new within the last decade, and doctors are still trying to figure out a treatment. However, there are some things we can give our children that will help ease their pain and decrease the symptoms of FOMO.
Addressing the Symptoms of FOMO
Replace Their Frustration With Joy
Always be full of joy in the Lord. I say it again—rejoice. Philippians 4:4 NLT
Replace Their Irritability With Cheerfulness
Every day is a terrible day for a miserable person, but a cheerful heart has a continual feast. Proverbs 15:15 GW
Replace Their Anxiety With Peace
You will keep in perfect peace all who trust in you, all whose thoughts are fixed on you. Isaiah 26:3 NLT
Replace Their Arguing With Awareness
You will say the wrong thing if you talk too much—so be sensible and watch what you say. Proverbs 10:19 CEV
Replace Their Crying With Happiness
Happiness makes you smile; sorrow can crush you. Proverbs 15:13 CEV
Replace Their Rolling Eyes With Bright Eyes
Bright eyes gladden the heart; good news puts fat on the bones. Proverbs 15:30 NASB
Replace Their Anger With Kindness
Be kind to one another, tender-hearted, forgiving each other, just as God in Christ also has forgiven you. Ephesians 4:32 NASB
Addressing the Reason for FOMO
Honestly, the deep rooted fear of missing out, not being included or not being in the know has a very real anxiety for our kids, especially our teens, when it comes to their world and their community. Addressing the symptoms of FOMO are good things to address. However, if we want to get at the root of FOMO, we need to put ourselves in our kids shoes and understand why they are afraid of missing out. They are some of the same things we were all afraid of at their age, too.
5 Reminders to Give Our Kids With FOMO
Reminder Number 1: God Is in Control
And we know that God causes all things to work together for good to those who love God, to those who are called according to His purpose. Romans 8:28 NASB
Reminder Number 2: God Holds Their Future
For I know the plans I have for you," says the Lord. "They are plans for good and not for disaster, to give you a future and a hope. Jeremiah 29:11 NLT
Reminder Number 3: God Knows Their Heart
The Lord doesn't see things the way you see them. People judge by outward appearance, but the Lord looks at the heart. 1 Samuel 16:7a NLT
Reminder Number 4: God Can Be Trusted
Commit everything you do to the Lord. Trust him, and he will help you. Psalm 37:5 NLT
Reminder Number 5: God Values Them Deeply
I will give thanks to you because I have been so amazingly and miraculously made. Psalm 139:14 GW
Questions:
Is it better to start with the symptoms or the reason for FOMO?
Where will you start?