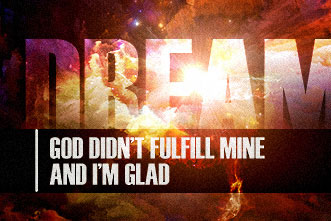 Last week, 13,000 people and I were amazed by Sting and The Police in concert (see Stephen's post).
Sting's an incredible singer. With no effort at all, he can hit notes only dogs can hear. He's clearly gifted by God.
At one time, I would have envied him for his talents and success.
When I was a teen I watched The Beatles' American debut on the Ed Sullivan show and the trajectory of my life was changed forever. It was like I'd only drunk water all my life and suddenly I got a taste of a mint chocolate frappachino.
I now had a dream—to be like the Beatles—writing cool songs, performing for screaming crowds and being chased by adoring girls. I pursued my dream through high school and college, writing songs and playing in a rock band, "Phoosh" (the sound of something going by real fast). I'm sure that Phish stole our name years later.
When Jesus saved me, I "Christianized" my dream.
Now instead of dreaming about opening for the Beatles in Shea Stadium, I wanted to dazzle throngs at Jesus festivals.
But God didn't give me my dream.
In fact, one day my mother confronted me about how my "pipe dream," as she called it (Mom was blunt) was actually hindering me.
In living for my dream, I wasn't preparing for any other options. I wasn't diligently looking for a job, though I had an art education degree. I was disdaining being a "common" teacher because, after all, I was going to be a big Christian star, ministering to thousands in concert.
Mercifully, God helped me listen to my Mom and I took a job as an elementary art teacher.
By God's grace, I decided to work heartily as to the Lord.
And God used my teaching experience to humble me and, in many other ways, to prepare me for pastoring, my life's calling.
I'm glad God didn't give me my dream. Because he had something better for me I never could have imagined.
I wouldn't trade places with Sting for anything.
If your dreams are on hold, be encouraged—God is probably preparing something far better for you.
Something you could never imagine.
http://www.kval.com/news/local/Church-Sucks–224889272.html?tab=video&c=y