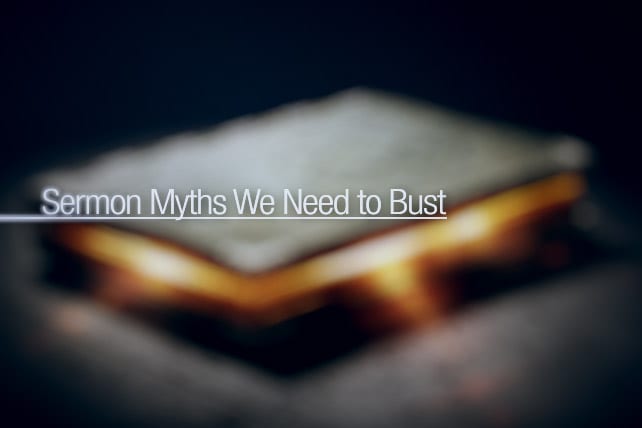 Preaching is one of the most demanding tasks required of communicators.
You're not just giving a 'talk,' you're communicating the Word of God—faithfully (you trust). And you do this in front of groups of people who have more communication options and sources than at any point in human history.
Not an easy task.
In addition, when it comes to preaching, everyone has an opinion.
As a result, preachers get more than their share of feedback. Sometimes it's helpful. Sometimes not so much.
So to wrap up my five-part communication series, I thought I'd finish by busting some sermon myths.
The rest of the blog series covers topics like creating sermon series that connect with unchurched people and learning how to speak without using notes:
Part 1: How to Design a Message Series That Engages Unchurched People
Part 2: How to Craft a Killer Bottom Line for Your Next Talk
Part 3: 7 Reasons You Should Speak Without Using Notes
Part 4: A 5-Step Method for Delivering a Talk Without Using Notes
Part 5: 6 Sermon Myths We Need to Bust (This post)
I've learned a lot about communicating through preaching for over two decades, but I've also been tremendously helped the last few years by Preaching Rocket (affiliate link).
I've been through their entire coaching programming and it's been fantastic for me both as a preacher and a conference speaker.