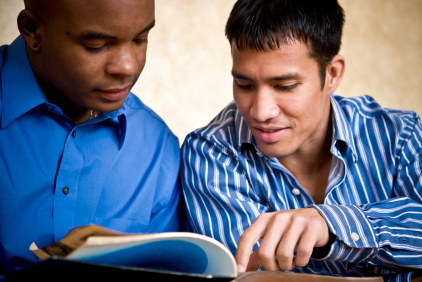 For more than 13 years, church growth consultant Bill Easum and Bil Cornelius, pastor of Bay Area Fellowship in Corpus Christi, Texas, (No. 77 Fastest-Growing and No. 97 Largest on the 2009 Outreach 100 lists) have fostered an ongoing mentoring relationship, sharing perspectives on everything from building church systems and intentional outreach to creating personal space and book writing (they co-authored Go Big together in 2006). Here, they share their collective and proven wisdom on cultivating an effective and enduring mentoring relationship:
Being a Mentor
In the beginning of forging a mentoring relationship, ask questions to understand what this person wants you to do, the time involvement, etc. Understanding early on what you're both expecting fosters greater impact.
Pray about the request and make sure you sense God leading you.
Be encouraging and constructive. Jumping down someone's throat or demeaning someone gets you nowhere. It's better to ask questions, such as "Why did you do that? What was your reasoning there?"
Affirm someone when you see him or her do something smart. The more competent the person is, the more mentoring becomes affirming.
Don't be afraid to ask the hard questions and challenge someone. Part of mentoring is being that voice of accountability.
Encourage that person to consult with others as well. Let him or her know you won't feel disappointed or threatened if he or she seeks wise counsel from others.
Be willing to learn from someone younger and less experienced than yourself. A good mentor asks questions. Openness, curiosity, and reading the signs of the times are all important elements for being a mentor.
Being a Mentee
Before you ask someone to mentor you, invite him or her to lunch, get to know them, and make sure it's a good fit. Pray over the decision before you ask.
Be careful to choose someone who has accomplished in his or her life the same thing you want to accomplish in your endeavors. Ask someone who has a proven track record and resonates with your values.
Before you approach someone for mentoring, visit his or her Web sites, read their books, go to their conferences. Show the person respect and that you grasp and value his or her teachings.
Be humble and willing to ask the questions that expose your weakness. For example, if you ask, "How do you do small groups?" you're also saying, "We're having a problem with small groups." Admitting weaknesses makes you stronger.
Choose someone who knows and acknowledges that he or she has only accomplished anything because of God working through him or her.
When your mentor tells you to do something, do it. Part of humility is admitting that the very reason you're talking to someone is because he or she knows more than you do.
Affirm your mentor and his or her ministry calling, say thank you for all they've done, thank them for their knowledge and time. Nothing is more encouraging to someone who really desires to be an influence than to know they've hit the mark.
Before you meet, be prepared with specific questions to ask. Realize that when someone is sharing his or her information and insights with you, someone else is not getting his or her time.
If your mentor is not nearby, make the effort to travel and speak face-to-face with him or her.
Be willing to speak and meet with others on your mentor's staff. If the mentor is not available but suggests you meet with a staff person, respect his or her judgment and learn from the available sources.
Be kind to your mentor's assistants, never demanding to meet with him or her or calling several times a day.