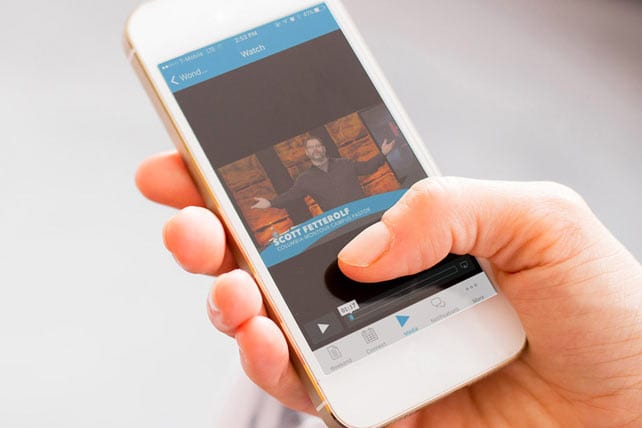 As your church grows, you'll need the tech tools to help you manage your team, finances, and service elements. You'll be amazed at how the right tools can launch your communication and productivity into the stratosphere! Here are eight incredibly helpful tools:
This platform from CCLI (Christian Copyright Licensing International) gives you legal access to tens of thousands of lead sheets, chord charts, and vocal arrangements from hundreds of publisher catalogs.
Since CCLI represents most of the world's Christian publishers, you can find the official chord charts and lead sheets for the songs your church uses. You can transpose songs with the touch of a button. It's easy to find what you're looking for, and so easy to use!
Need to make sure your teams are communicating well? Slack is the internal instant messaging platform that is making emails obsolete. Slack enables you to keep the conversation flowing with channels you can tailor around specific topics, tasks, and teams. You can create private channels for more sensitive information, or communicate directly with direct messages — and all communication is easily searchable.
It's perfect for sharing files, images, PDFs, and documents. A simple drag and drop will share your files, or it can be synced with services like Google Drive or Dropbox. It also integrates with many other apps.
It's getting to the point where having a church mobile app is non-negotiable. It keeps your church members engaged and communicating, while providing an incredibly useful giving tool. The Total Engagement Package is exactly what the doctor ordered.
With the Total Engagement Package, churches can create their own app with features like:
Video sermons
Push notifications
Event registration
Podcasting and blog posts
Mobile giving
Bulletins and calendars
Churches that have effectively implemented the echurch app powered by Pushpay have seen giving increases in upwards of 30 percent — and 5 percent of that is from new givers! (That's because, while there are many mobile giving providers out there, we're the one that specializes in making sure your congregation actually uses it.)
Planning Center is basically a fully functional church management system, but I want to focus on the worship element. It's amazing. The service planning tech tool lets you add all the song and media elements for your service and add pertinent people to the schedule. And with the ability to import music from SongSelect, worship planning is a breeze.
The worship leader can see immediately when the last time a song or element was used, and it's simple to pull together all the information needed when it comes time for CCLI reporting.
Users can log in on any Internet-connected device and can block out dates ahead of time to make scheduling trouble-free.
For the life of me, I can't figure out why any organization would use anything else but Google for creating documents, spreadsheets, forms, etc. It's free, completely collaborative, and instantly saved and available on any device.
You can share the content you're working on, and the people that need to be involved can comment and edit it into perfection. And if your church is larger and a little more enterprising, you can even upgrade to Google Apps.
The more ministries, volunteers, and staff you have, the more important it is to make sure stuff gets done. Asana is the ultimate get-it-done tool. With Asana, you can take a project and break it down into actionable steps with clear due dates. You get regular updates on every project you're following, and Dashboard and Calendar views allow you to see your team's progress quickly and easily.
Seriously, if you know how to make a list, you can get your team using Asana. It's that easy, and the payoffs are enormous.
Pro-tip: Asana might be the most responsive company on Twitter!
Managing a children's ministry is a lot of work, and Disciplr makes it easier. You can from their shop that features more than 150 curriculum products which you can then customize to fit your church's calendar. And it's completely digital, so you only need to print off exactly what you need — and all the lessons are optimized for any device making teaching from your phone or tablet a piece of cake. You like cake, right?
You can invite your volunteers to Disciplr and schedule them in the app. They'll have access to the lessons they need, and customizable supply lists are available for every lesson!
Keeping children safe should be a number-one priority for every church, and KidCheck helps you do it. It marries an easy-to-use, streamlined check-in system with top-notch security.
Parents create an account for their child with all the pertinent information for children's workers, like allergies and anyone authorized and unauthorized to pick up their child. Parents check in with their phone number or a scannable key tag and are given parent/child labels with matching security codes — ensuring the child won't be picked up by an unapproved adult.
On top of the security aspects, KidCheck gives you attendance tracking, and great tools for communication, including the ability to text a parent in the service.