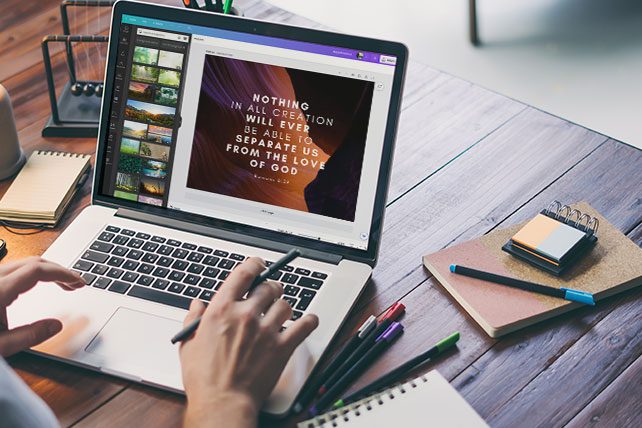 Be it for print materials, in service screen graphics, or creative social media posts, you agree that this should be done and be done well. And most likely you fall into one of two categories (sorry in advance for "labeling" you), either you know how to do this the right way, or you don't. As a youth pastor I've had reoccurring conversations around the topic of wishing I could somehow add graphic design to my past formation. The truth is, however, software like Photoshop and Illustrator, while being industry standards, are both expensive and hard to learn (at least for the average ministry worker). You need apps for graphic design like wordswag or apps similar to wordswag.
So I've compiled a list of Apps that I personally use as workarounds when I need graphics made. I'll say first off, I am happy to pay for custom work that I commission professionals to create, be it freelancers of even the occasional request on Fiverr. There are instances, however, when time and low priority needs simply don't allow for me to outsource the work. It is in those times that I turn to Wordswag and apps similar to Wordswag.
Finally, I must add that I am using the term "app" both in it's fuller definition of "application" or "software" as well as its modern use as related to phone or tablet software.
1. WORD SWAG
If you are just starting out, or looking for cheap, quick, easy yet stunning graphics, this app is the way to go. At $4.99 for download and a potential one time $1.99 in-app purchase for more styles, the possibilities are virtually endless. Word Swag specializes in adding text to photos and images, while keeping a very cool and artistic look.
This app is especially good for quotes [from] your speaker, recapping the weekend program. It also can be used to make incredible verse images that you can post as encouragement to your followers. The biggest con with this app, however, is the design limitations. Because of its ease of use, there are some things you may want to do, or features you would expect that simply aren't here. Fear not, there are other apps for that.
Apps Similar to Wordswag
While Canva is probably the application I use the least, it is truly an incredible resource. Available as a web-based software as well as a phone and tablet app, this software is capable of so much. While it would take me too much time to highlight each individual feature, or even bunch them together, let me simply point out a few of the things that I think make Canva a valuable Photoshop workaround.
First of all, it has all your standard features: custom canvas sizes, presets for web as well as printed materials, even a feature to create slides for a presentation. It has templates in case you are uncomfortable starting from scratch, a wide variety of fonts, layouts, elements to add to your work such as shapes, lines, vector art and more. You can search stock photos or illustrations and whatever isn't free, can be purchased typically for $1. It also has some good export features for when you are finished including a PDF format with lines set as guides for cutting your printed work.
The user interface is easy to work with and intuitive, but does have some limitations, especially if you are trying to work on your phone. I recommend the web-based version for easiest outcome.
Now for some of the not-so-expected, yet incredible Canva features. If you are interested in purchasing the upgraded version "Canva for Work" (billed $12.95 monthly or $119.40 for the year) you are in for some real treats:
Access to a lot more stock photos and illustrations

The ability to add team members under your same account that can access and even work on your designs for you

Magic Resize which allows you to create something once and automatically have it resized for multiple platforms and design types (/disclaimer, I haven't actually tried this feature, although it sounds like a real time saver/)

The ability to save your brand's color palette, logos, even fonts and "go to" designs for recurring use
Canva.com
 is also an incredible resource for learning more about graphic design. They have tutorials for select features you may need, as well as a section on the theory behind designs. Font pairing, color choosing and overall project layout, are all sample topics that are covered in this free educational portion of the site.
Premium features of Canva for Work can also be obtained free of cost if you apply for the non-profit work version, reserved for registered 501c(3) corporations.