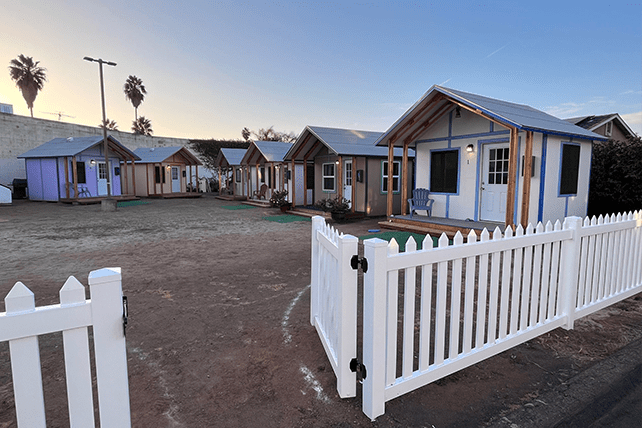 EL CAJON, Calif. (BP) – When the first residents moved into the newly built emergency shelters on the campus of Meridian Baptist Church, it was the fulfillment of a ministry idea years in the making.
Since late December, three previously homeless women and their children have been sheltered in the emergency facilities located on Meridian's property.
Rolland Slade, senior pastor at Meridian Baptist Church in El Cajon, said the need is great, as San Diego County (of which El Cajon is a suburb) has one of the largest homeless populations in the country.
"It's a way to tackle this issue of homelessness, and it's a way for us to maximize our opportunity to be salt and light for the community," Slade said.
Upon viewing the shelter for the first time, Slade said one of the first residents was overwhelmed with emotion.
Slade said he was concerned that everything in the shelter would be ready and presentable, while she was overcome with tears simply upon seeing a place with a bed where she could be comfortable.
She had been sleeping in her car for three years.
"These shelters specifically give women with children a place of rest so that they can engage the system and move to the next level whether it is other temporary housing or more permanent housing," Slade said.
Slade explained the shelters are on Meridian's property and were built by more than 100 volunteers from the church, but many more have lent a hand.
Classified as a pilot project, the endeavor involves Meridian Baptist, a local non-profit focused on homeless women and children called Amikas, the city of El Cajon (including the city council) and a social service agency called Home Start of San Diego County.
Plans for the village of shelters, named the Meridian-Amikas Village, began in 2019 when Slade became convicted about homelessness in his city. He called it the biggest issue local elected officials are dealing with.
Slade joined the board of Amikas, and plans were soon underway for the pilot project.