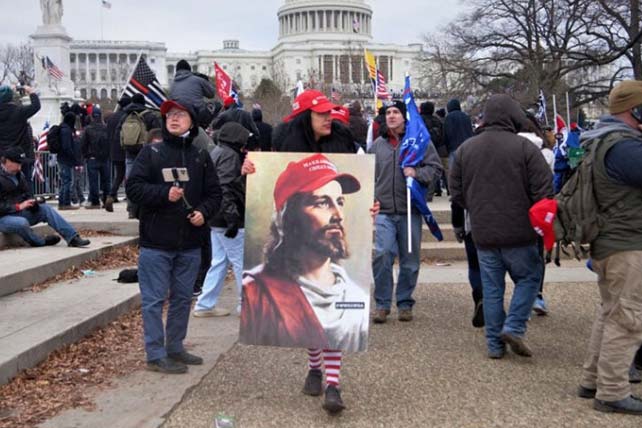 (RNS) — Julie Green had good news when she stood up to speak during the ReAwaken America Tour's latest stop last week at the Trump National Hotel Doral near Miami.
God had told her that Joe Biden was on his way out, she said, according to videos of the event. And God's people were going to win.
"We're in the greatest battle for the soul of the nation this nation has ever been in since the founding of this nation," said Green, an Iowa pastor known as a charismatic prophet and fervent supporter of former President Donald Trump.
God's people, as Green's theology makes clear, are her fellow Christians. And they would win, she added, because they would not give up: "You're not quitting on what is rightfully yours," she told the audience.
RELATED: Latino Faith Leaders to Gather for Summit on Christian Nationalism
Green's comments captured an essential element of Christian nationalism: The idea that America belongs to and exists for the benefit of Christians. Green's fellow ReAwaken America Tour speakers — disgraced former Lt. Gen. Michael Flynn, Roger Stone, Eric Trump and MyPillow CEO Mike Lindell, alongside pastors and prophets — are some of the loudest and best-known proponents of the ideology, which helped fuel Trump's rise to the White House and has made national headlines since the Jan. 6 riot.
But its ubiquity, and the charge it carries in the current political debate, has made Christian nationalism a seemingly infinitely malleable term, one directed at times at anyone who supports Trump or any part of his agenda, and adopted by some who call themselves Christian and take patriotic pride in their country.
As a result, few people actually understand what Christian nationalism is, said University of Oklahoma sociology professor Sam Perry, co-author with Andrew Whitehead of "Taking America Back for God: Christian Nationalism in the United States."
That doesn't stop anyone from having an opinion about Christian nationalism, Perry said. "Either they're very much for it or they're very much against it."
Perry argues that Christian nationalism is not a synonym for evangelical Christians. And not everyone who "votes their values" — a term often used by politically active conservative Christians — qualifies as a Christian nationalist. Nor do people who want religion to play a part in public life, he said.
Perry and Whitehead have defined Christian nationalism this way: "a cultural framework that blurs distinctions between Christian identity and American identity, viewing the two as closely related and seeking to enhance and preserve their union."
In an interview, Perry contrasted that view with "civil religion"— when the Rev. Martin Luther King Jr. invoked the promises of the Declaration of Independence or President Barack Obama led a grieving congregation in singing "Amazing Grace." These moments combined spiritual ideas and political moments.
Christian nationalism, Perry said, is more about who should be in charge.
"The difference between Christian nationalism and civil religion is Christian nationalism says this country was founded by our people for a people like us and it should stay that way," said Perry.
In order to see how many people subscribed to this idea, Perry and Whitehead looked at data developed for the 2017 Baylor Religion Survey, which asked Americans to respond to statements such as "The federal government should declare the United States a Christian nation" and "The federal government should advocate Christian values." The Baylor researchers also asked about prayer in school and the separation of church and state.