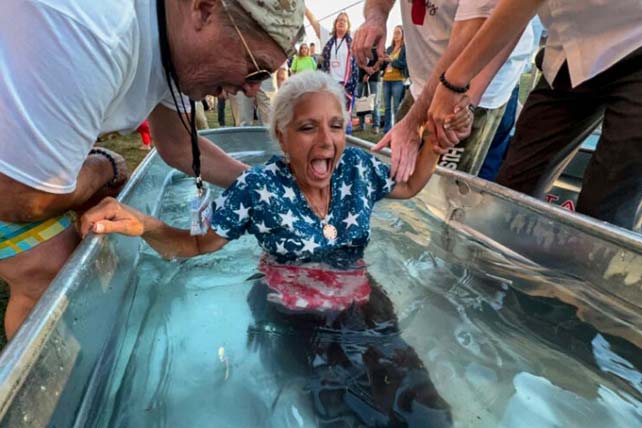 (RNS) — The ReAwaken America tour, a traveling roadshow featuring self-declared Christian nationalists, rolled into Miami over the weekend, bringing some 50 speakers uniformly declaring the inevitability or necessity of a second term for former President Donald Trump. Others made more arcane promises, such as conservative podcaster Stacy Whited's forecast of an imminent "transference of wealth from the wicked to the righteous" that would make those in the audience rich.
ReAwaken America events have been a hub for election deniers, conspiracy theorists and those who discuss immigration as a plot to "replace us" — "us" being by implication white evangelical Christians.
On this score, Miami may appear to be an odd choice for the tour's organizers: More than half of the city's residents were born outside the U.S. and more than 70% are Latino. Yet there is evidence that white supremacy and Christian nationalism have made their way into the Latino community in the United States, including among the most violent fringe of those movements.
RELATED: 'Christian Sharia'—MSNBC Host Equates Pro-Life Policies With Christian Nationalism
The shooter who killed eight people at a mall in Allen, Texas, was identified as Mauricio Garcia, a Latino man whose online activity showed an interest in white supremacy.
Journalists found that Garcia posted photos of Nazi tattoos on his arm and torso, including a large Nazi hooked cross and the SS lightning bolt logo of Adolf Hitler's paramilitary forces. He also made references encouraging violence against women, celebrating rape and using vocabulary of the male supremacist incel, according to the Southern Poverty Law Center.
Another prominent Latino linked to far-right groups is Enrique Tarrio, who is Afro-Cuban, and the former leader of the paramilitary group the Proud Boys who was found guilty this month of seditious conspiracy for his role in the Jan. 6, 2021, insurrection at the U.S. Capitol.
But these examples should not come as a surprises, according to Brian Levin, director of the Center for the Study of Hate and Extremism at California State University, San Bernardino, who said that the spread of xenophobic prejudice and bigotry online has helped make intolerance "transnational and transethnic."
"Misogyny, a fascination with fascism, weapon fetishization are things that, I think, define aggressive masculinity. That cuts across a variety of ethnicities and subcultures," Levin said.
Levin also said that Latino Americans can be drawn to mainstream conservative ideas about the value of hard work and so-called family values and can come into contact with groups online that may lead them down a rabbit hole "where the direction and the depth and the acceptability of aggression become more fixed."
The increasing numbers of Latinos joining Pentecostal or other evangelical churches mean that they increasingly hear messages from prosperity-gospel preachers, including those who believe Trump was ordained by God to be president.