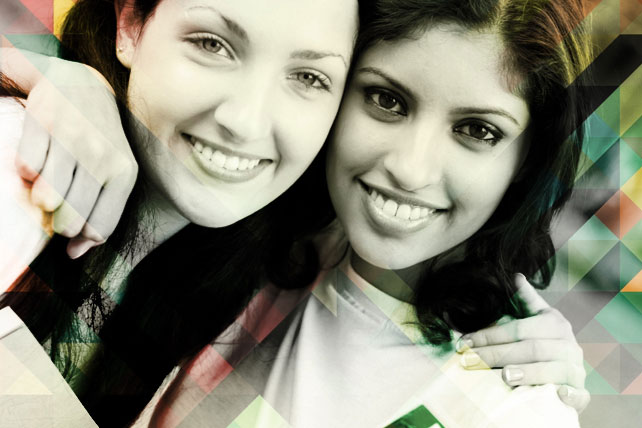 The scene could not have been more inauspicious: a low-lit room, full stomachs and the dirty feet of a dozen grown men. This is not where you'd expect to find one of the world's greatest lessons in loving one another.
But it was here, nonetheless, in the upper room of a common house in first-century Palestine, the night before Jesus died, that we learn how to live together as the church in this world. The apostle John tells us the story, showing us three unforgettable parts.
1. Put an Apron on Authority
The apostle is so crystal clear here. He wants us to get the timing down of when this event transpired. It was before the Feast of Passover, when Jesus knew that he was about to depart from this world, when Judas was already conniving to betray him, when Jesus understood that the Father had given him all authority and his earthly ministry was almost finished. We're supposed to see this context in John 13:1-3, and having all this in our minds, we read: "[Jesus] rose from supper. He laid aside his outer garments, and taking a towel, tied it around his waist" (verse 4).
This is not the set-up for a snazzy TED talk. Jesus, knowing that he is the sovereign Lord over everything, puts on an apron and prepares to wash the dirty feet of his disciples.
This is a picture of Christian paradox—that wondrous, confusing, upside-down dimension of the gospel that we couldn't make up. It is especially important for local churches that might too easily buy into the modern mentality that bigger is better. It might seem that the most impressive operation is the most sophisticated one, or that distinguishable value is really found in the bells and whistles. But then Jesus says that the last is first, and the least is greatest. He points us to a mustard seed—this teeny, incredibly unimpressive seed that, once it's planted and grows, becomes a tree so big that birds make it their home (Matthew 13:31).
The sovereign Lord washing the feet of his followers—this upside-down dimension of the gospel—redefines the nature of relationships. Where the world has its ranks and high-profile untouchables, the King of glory puts on an apron. This means that we, his people, are never too important for ordinary relationships.
2. Do What Jesus Did
John makes this point clear for us, too: We do what Jesus did. Jesus served his disciples and tells us, therefore, that we should serve one another. "I have given you an example, that you also should do just as I have done to you" (John 13:15).
Jesus says that his humility is an example for us—that we do what he does. And this means, profoundly, that one of the ways we identify with our Savior is by caring for others in the same manner he has cared for us. We show ourselves to be his disciples when we humble ourselves and seek the good of others at our own expense.
This is important because there is a degree of suffering we will experience in serving one another. It always costs something to seek someone else's good, and there will be times when it feels like we're not getting any encouraging return on our investments. In these moments, because of Jesus' example, we know it doesn't mean we turn and run, but instead press in and hold on. When the serving gets especially tough, we shouldn't necessarily serve less, but perhaps more. And in doing that, we go deeper with Jesus.
Consider the context of Jesus' own serving in John 13. Look at the group sitting around him. John is sure to tell us, right in the middle of all this, how Judas is in the process of betraying Jesus. And then Peter, who is so vocal, will soon deny Jesus. We see something here that is true of Jesus' wider ministry: You didn't have to reach a certain status of friendship for Jesus to serve you. He washed his disciples' feet knowing all along that soon, in the garden where he'll be arrested, they would all scatter.
3. Know the New Commandment
The instruction and example from Jesus now becomes a bona fide commandment—a new commandment (John 13:34). The meaning behind our serving one another is our love for one another. The church loves one another, even in ways deeper than flesh-and-blood family.
This has to be true for my family to make it. Years ago, in a move from one school to another, my wife and I relocated our growing family based on Jesus' words in Mark 3:35: "Whoever does the will of God, he is my brother and sister and mother." We left a loyal home-base that had loved us for years—not to mention an endless supply of free babysitting—to come to a community we didn't really know. All we did know was that they followed Jesus, and if what Jesus says is true, we would be OK. More practical than anything else I've experienced, Jesus' words have been true. We live where we do primarily because the family of Jesus is a group that loves one another.
And when this happens, Jesus says all people will know that we're his. Our love for one another is a witness to our identity as the redeemed sons and daughters of God. This is such a brainteaser for those of us who have put a lot of thought into the mission and structure of the local church. So often we tend to think of in-reach and outreach as two different arms of the church, both extending in opposite directions, doing their own thing; but then Jesus comes and says one can't exist without the other. A church that is "missional," and wants to make Jesus known in their community, must be a church that loves one another. And a church that is intentional about loving one another can't help but be a church that makes Jesus known. That's the way it works.
And that's how we live together as the church in this world: We go against the grain of societal expectations, we help one another when it hurts, and we love one another to represent our King.