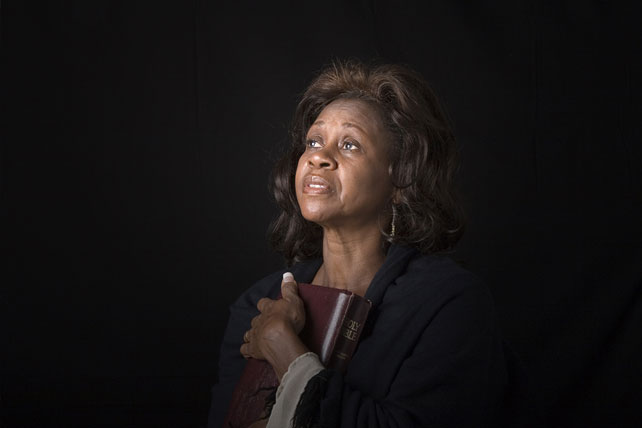 Sometimes hearing God's voice and knowing God's will can be a traumatic experience: Saul of Tarsus first encountered Jesus in a dramatic fashion. (You can read the account in Acts 9) A light flashed all around him, and he fell to the ground with a thud. Then, he heard a voice that he did not recognize. It called to him, "Saul, Saul, why do you persecute me?"
Shocked and confounded, Saul called back, "Who are you, Lord?"
The voice resounded again, "I am Jesus."
Though Saul had spent his life in the Scriptures, he still was unaware of what God sounded like. Can you imagine that? Saul believed he was at the top of his religious game only to find out later that he had missed God's will the whole time. Can you imagine knowing God's words, but never knowing his voice? Saul's conversion experience set the stage for his entire life. He instantly went from Saul, the persecutor of Christians, to Paul, the apostle. He had met Jesus and would not soon forget the Lord's voice. The beauty was that because he had heard the voice once, he would recognize a familiar voice when he would hear God again.
This voice is what would enable Paul to know how to live out the life God had called him to. Paul needed more than just the Scriptures to know God's will. [NOTE: It's also true that we need to know the scriptures. God won't speak contradict what he's already said in the Bible. But the point here is that Paul also needed to hear the voice of Jesus.] He relied on God's voice to speak to him about where to travel, what to say, and how to tend his heart.
The truth is we all need to hear the voice of God. His thoughts on who we are and what we do are as invaluable as heaven itself. But can I recognize God's voice? Do I allow myself to trust what I believe to be God's opinion on my life? Most of us would agree we want this type of communication with God. However, most of us would also admit we have a hard time hearing him speak.
If you have a willing heart, the kind of heart that is humbly open to the Father's voice, I offer these suggestions for getting to know God's will:
Hearing God's Voice – 4 Keys to Knowing God's Will
1. Remember a time God has spoken to you in the past.
Anyone who has said "yes" to Jesus for salvation has heard his voice. Like Paul, we have heard a call, even if it didn't knock us on the ground. Reflect on what it felt like when that voice called to you the first time.
2. Ask God to speak to you, and then listen
Here's a quick exercise that I sometimes do. Close your eyes and picture Jesus. Look into his eyes, and then ask him if he has anything he wants to tell you. Then watch and listen. If a thought or picture pops in your mind the instant you ask God for a word, you can generally trust that it's him. You have just asked for bread, and God won't give you a stone.
3. See if peace accompanies the word you hear
Whenever I think I've heard the Lord speak to me, I take a minute and hold the word out before Him. If I feel His peace settle on it, I can trust it. If guilt, worry, or fear feels attached to what I just heard, I can assume that it wasn't Him. If something you hear is defined by love, joy, peace, patience, kindness, goodness, faithfulness, gentleness, and self-control, you can rest assured that the Spirit has come close.
4. Act on words that require obedience
This can be the most difficult part about hearing God. At times, God will ask us to step out in faith. We should follow his lead. I have a friend who says that if you ever feel like God has gone silent, remember what the last thing was he asked you to do, and make sure you do it. Obedience invites more communication. It says to the Father, "I believe your words are trustworthy."
The Father is looking for friends who will allow themselves to be forever changed by doing God's will. Even now, God is speaking. What do you hear Him saying?
Be Patient: It Might Take years To Know God's Will
How can you know for sure if you've heard the voice of God? How can you be sure you are doing God's will? As pastors we want to follow God's will — to go where he wants us to go, and do want he wants us to do. Understanding his direction in our life is a sign of a mature disciple.
Sometimes God is abundantly clear. Both through the scriptures and the circumstances of life, certain aspects of God's will are very clear. Some are clear every day. It's God's will that I should be thankful and praise-filled. It's God's will that I should be of a humble, kind and generous heart. It's God's will that I should hunger and thirst after him and his kingdom. (NOTE: this is not a simple list! Actually, these seven things just mentioned are enough for a lifetime!)
Two Challenges to Knowing God's Will
There are challenges, however, decisions that involve choosing one thing and not choosing another: What calling does he have for me? Whom should I marry? Should we try to conceive a child? What color outfit should I wear today? From the everyday matters to the life-changing decisions, we all recognize that some choices involve embracing one direction and choosing to walk away from other paths. Both paths could even be "good." But we must choose, and we want to choose God's will.
A second challenge: what about when life makes choices for us? What happens when circumstances and events wash over us like sea waves? Is God the author of every circumstance? Is the Adversary reaching out his hand to steal, kill or destroy? This, too, involves hearing from God. Do I stand against the tide or go with the flow?
A friend of mine faced a decision that would involve a one-year commitment. "How will I know it's God?" he asked. I suggested he enjoy the ride, and that he would know whether God was "in it" after the year was over. What? Is that an unsatisfying answer? Try this one on for size: in the book of Genesis a teenager named Joseph suffered injustice and betrayal at the hands of some of his own bothers. Yet years later (perhaps 15 – 20 years later!) Joseph could say, "You intended to harm me, but God intended it for good." (Genesis 50:20)
Are we willing to walk with him day-to-day, moment-by-moment? Sure! But sometimes (just sometimes) we must we willing to wait years to determine if we were walking in God's will.