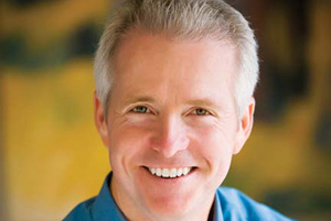 About a year and a half ago, I had the opportunity to meet John Ortberg for the very first time. He's been one of my favorite teachers and writers through the years. Now, after having had a couple of opportunities to connect with him face-to-face, I can confirm that he's also a genuinely good guy.
John is the senior pastor of Menlo Park Presbyterian Church. He's also written a number of great books including his most recent, The Me I Want to Be (affiliate link). Currently, John is also partnering with the team at Monvee to help people discover what is getting in the way of their spiritual growth and then craft a plan to address it.
I asked John to give his perspective on spiritual formation trends in the church:
I think that there is a large groundswell of people who are seeking to be disciples–followers of Jesus–in a way that brings about authentic change at the level of character and habits and 'automatic behaviors.' I think for too long discipleship became a word that, in certain circles, conjured up early morning meetings at Denny's and reading a book and filling in blanks and 'accountability' to make sure other people filled in their blanks.
People are more aware that information alone does not produce transformation. People are also hungry to understand the connection between discipleship and doing justice.
This is impacting churches because those traditional discipleship programs are increasingly ineffective. Churches are often not sure what to do next. Small groups continue to exist, but the dirty little secret in many churches is that quality control around small groups is notoriously difficult.
So churches are looking for ways to handcraft disciples rather than mass-produce them. We are beginning once more to come to grips with the fact that people are made to grow in different ways. An online tool like Monvee can help people discover the practices and experiences that can help someone who is wired-up like them to be able to actually move toward transformation in Christ. And churches are struggling to make 'spiritual formation' their entire agenda rather than one department.
As usual, Dallas Willard says it best: "Given the contents of the New Testament, one might expect local congregations of Christians to be entirely devoted to the spiritual formation of those in attendance. What we actually find in most is constant distraction from this central task…often, there is recognition that what we wind up 'having to do' is not what we really feel it should all be about."