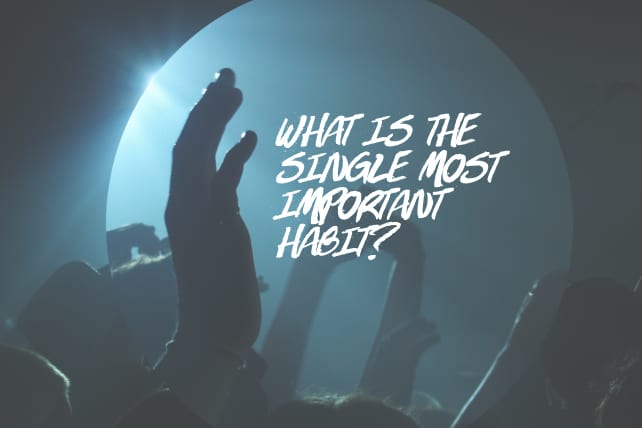 The final frontier of biological research is still the enigmatic human brain. And at the cutting edge of recent study has been this phenomenon we call "habits." One important finding has been what researchers and popularizers call "keystone habits"—simple but catalytic new routines that inspire other fresh patterns of behavior.
Take, for example, the habit of drinking more water daily. A little intentionality here might lead to making better food choices, and may even help inspire exercise. For some, quitting smoking is a keystone habit that starts a domino effect of good lifestyle changes. For others, simply forming the habit of putting on running shoes in the morning leads to walking for exercise, then light jogging and eventually to becoming a full-fledged regular runner.
Find the right keystone, and you could unleash a string of good habits in your life.
Keystone for Christians?
While I cannot commend one keystone habit that will make the difference for every believer, I do want to speak up on behalf of one weekly habit that is utterly essential to any healthy, life-giving, joy-producing Christian walk: corporate worship. And it is all too often neglected, or taken very lightly, in our day of disembodiment and in our proclivity for being noncommittal. In fact, I do not think it is too strong to call corporate worship the single most important habit of the Christian life.
We may think it's a new temptation today to play fast and loose with corporate worship, but the book of Hebrews gives another impression. Actually, speaking of habits, Hebrews 10:24–25 is the only use of the word "habit" in our English translations of the New Testament.
Let us consider how to stir up one another to love and good works, not neglecting to meet together, as is the habit of some, but encouraging one another, and all the more as you see the Day drawing near. (Hebrews 10:24–25)
By clearly delineating a bad habit that we must not develop—"neglecting to meet together"—Hebrews is also making clear what good habit we should cultivate, and feed: meeting together. Today's temptation to underestimate the importance of the weekly assembly is as old as the church itself. And yet, the great irony is that the habit of meeting together with Christ's people to worship him is utterly crucial for the Christian life.
But why? What is it about corporate worship that would lead us to think so highly of this as a habit to make—and to suspect for some that this may indeed be the keystone habit they desperately need for life-change?