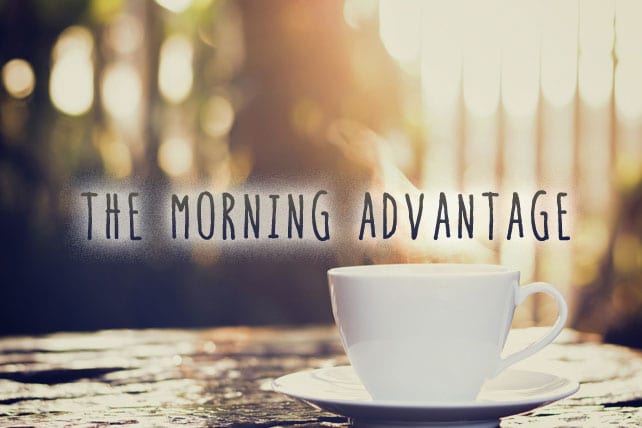 So you're trying to be more productive—to get more done in less time.
Here's the question: Does it really make a difference whether you're a morning person or not when it comes to productivity?
One of the more frequently asked questions I get as a leader is "How do you get it all done?"   (church, blogging, podcast, speaking and writing books).
My answer is usually a variation of "It's amazing what you can get done before 8 a.m. if you try."
As painful as that may sound to you, it's probably also true for you. The best leaders I know get more done before 10 a.m. than many people get done in a day.
Let me show you why and how.
I Wasn't Always a Morning Person…
I wasn't always a morning person.
I spent my university days choosing classes based on how late they started so I could sleep in.
I've made the transition from NOT being a morning person to getting up most days between 4:30 and 5:30 a.m.
How did that happen? Well, the journey got started when my wife and I got married (I decided to get up at 8 because she was a morning person).
Having kids a few years later threw my schedule out the window and I started rising around 6 and kept that discipline up through my 30s. Usually I would get up early, pound through some email (after devotions) and then make breakfast and then start work in earnest around 9.
I spent my 30s wanting to write a book and having friends tell me I should. But I didn't.
It wasn't until my 40s that I started getting up earlier and really committing to a 5:00 a.m. wake up call.
Since then, I've led our church to the largest it's ever been, published three books, blogged regularly, launched a podcast and spoken more regularly at conferences … plus spent meaningfully more time with my wife and kids than before.
Is that ALL because I got up earlier? No, age and stage have their advantages.
You accumulate (hopefully) wisdom, learn to do things faster, and your kids get older and don't demand 24/7 attention like they used to (although I'm still convinced parenting teens requires as much or more time than parenting toddlers). Could I have done all of this in my 30s? Probably not.
But if I got up at 7 a.m. or 8 a.m. most days, I'm convinced all I'd be able to handle is my day job … and I'm convinced I would do it more poorly at that. In other words, I'm not sure I'd be doing anything more than my day job had I kept sleeping in.
So how does being a morning person give me (and many other leaders) a distinct advantage?
Here are five reasons:
1. Your brain is (probably) at its best
Personally, there's no doubt I get my best work done before 10:00 a.m. My most creative thoughts, best insights and clearest analysis happens well before lunch.
I'm amazed at how many high capacity leaders I know tell me the same thing.
Some research backs up my personal findings—that morning people do significantly better overall than night owls do.
Other studies show a more balanced view with night owls gaining a few advantages over morning people.
My guess is we could trade studies all day long to make our points, but I've personally never been better than when I'm up early.
Your most important asset as a leader is your mind.
And personally, my brain just does better when it's fresh off of rest. (I think sleep is the secret leadership weapon no one wants to talk about.) By working early (even if it's just an hour), you do your most important work when your brain is at its best.
Naps can also reset your brain during the day … and I will often take a nap if I can. However, I find a nap recharges my brain for far less time than a 6- to 8-hour sleep will.
Your brain simply serves you better as a leader when it's rested.