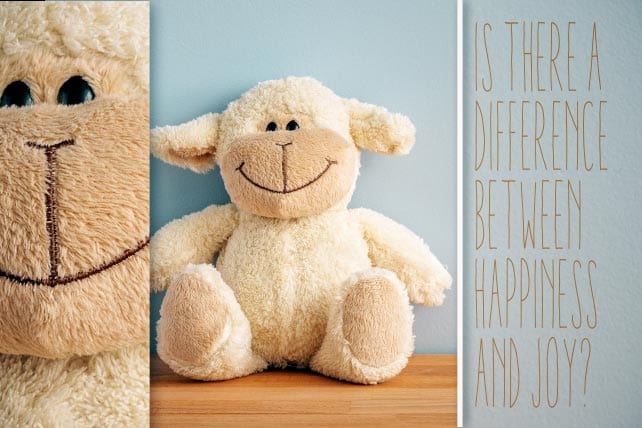 An ungrounded, dangerous separation of joy from happiness has infiltrated the Christian community. The following is typical of the artificial distinctions made by modern Christians:
Joy is something entirely different from happiness. Joy, in the biblical context, is not an emotion. … There is a big difference between joy and happiness. Happiness is an emotion and temporary; joy is an attitude of the heart.[i]
Judging from such articles (and there are hundreds more out there), you'd think the distinction between joy and happiness is biblical. It's not.
John Piper writes, "If you have nice little categories for 'joy is what Christians have' and 'happiness is what the world has,' you can scrap those when you go to the Bible, because the Bible is indiscriminate in its uses of the language of happiness and joy and contentment and satisfaction."[ii]
Here's a sampling of the more than 100 Bible verses in various translations that use joy and happiness together:
• For the Jews it was a time of happiness and joy, gladness and honor. (Esther 8:16, NIV)
• I will turn their mourning into joy … and bring happiness out of grief. (Jeremiah 31:13, HCSB)
• Give your father and mother joy! May she who gave you birth be happy. (Proverbs 23:25, NLT)
The relationship between joy and happiness in these passages refutes two common claims: (1) that the Bible doesn't talk about happiness, and (2) that joy and happiness have contrasting meanings. In fact, the Bible overflows with accounts of God's people being happy in him.
Depicting joy in contrast with happiness has obscured the true meaning of both words. Joyful people are typically glad and cheerful—they smile and laugh a lot. To put it plainly, they're happy!
Opposition to the word happiness is a recent development in the church.
There's a long rich, history of equating joy with happiness in Christ. For example, Jonathan Edwards cited John 15:11 ("that [Jesus'] joy might remain in you," KJV) to prove this point: "The happiness Christ gives to his people is a participation of his own happiness."
Charles Spurgeon said, "May you so come, and then may your Christian life be fraught with happiness, and overflowing with joy."[iii] Spurgeon's views of happiness and joy, evident in hundreds of his sermons, are completely contrary to the artificial wall the contemporary church has erected between the two.
In stark contrast to believers prior to the 20th century, many modern Christians have portrayed happiness as, at best, inferior to joy and, at worst, evil. Oswald Chambers (1874–1917), whom I greatly respect, is one of the earliest Bible teachers to have spoken against happiness. Chambers wrote, "Happiness is no standard for men and women because happiness depends on my being determinedly ignorant of God and His demands."[iv]
After extensive research, I'm convinced that no biblical or historical basis exists to define happiness as inherently sinful. Unfortunately, because Bible teachers such as Chambers saw people trying to find happiness in sin, they concluded that pursuing happiness was sinful.